Automobiles
I passionately love the world of automobiles.
Eight years in the USA and Europe gave ample opportunity to own and lease many interesting varieties.
Among these were a Ford Tempo, a Pontiac 1000, a Dodge Aries, a Ford Maverick, a Mercedes 190-E W201, a Ford Sierra, an Opel Rekord, a Ford Taunus-Cortina, a Ford Mustang, a Pontiac Catalina Safari wagon (my land-yacht), a four-wheel-drive Mahindra MM540, two Daewoo Cielos, a twin-cam 16-valve Daewoo Nexia, a Maruti 800 and a Suzuki Baleno VXi.
Here are some pages I've written about various automobiles.
---
Cars in the USA and nostalgia
A 1985 Ford Tempo was the first car I ever drove outside India.
It was my introduction to the US Highway, driving on the right-hand-side of the road, automatic transmissions and front-wheel drive.
I earned my California driving license in January 1985 at DMV Los Gatos, CA, on a plain vanilla Pontiac 1000 hatchback.
I first drove into San Francisco in Jan 1985 in a metallic red 1985 Dodge Aries "K" car. It was boxy and angular (long hood, short deck) and had front-wheel drive.
My 1974 Ford Maverick had a six-cylinder engine. It was my first purchase in the USA.
In the early seventies, the Ford Maverick and its corporate cousin, the Mercury Comet defined a new category in the USA called the "compact" category.
America was used to massive, long, wide, low land-yachts. A six-cylinder 2-ton car was still "compact"! The Maverick was Ford's "small" car and import fighter.
My metallic saddle-bronze Maverick had a 200-cubic inch straight six. 1974 was the year the US Environmental Protection Agency (EPA) introduced emissions control. And my car 967-JUB was a California car with air-injection system, oxygen sensor, catalytic converter, exhaust gas recirculation and other horsepower robbing stuff.
The monochrome picture below shows me in January 1985 at a carwash on Winchester Blvd., Campbell, Calif., doing the weekly ritual with my first automotive purchase.
The big American station wagon
The biggest car, I've every owned was this GM "B" body behemoth. It was a 1979 Pontiac Catalina Safari station-wagon. Very long, very wide and very low. It had a 116" wheelbase.
I bought it in the fall of 1988 at Kingston, New York.

Its initial license plates said, "NEW YORK KYB 676". In January 1989, I had them changed to "NEW YORK BAJIRAO".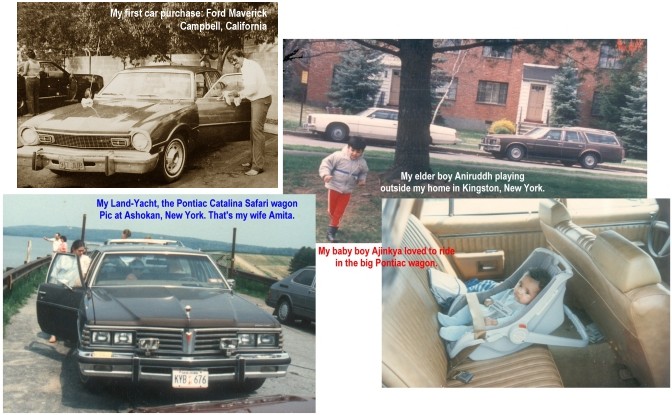 It was metallic regency brown with tan interior. With a small-block 4.9 liter Pontiac 301-cid V8 mated to a trailer-ready Turbo-Hydramatic 350 automatic transmission, it was a capable, utilitarian family wagon. The Catalina Safari had a three-way tailgate. With the rear window retracted, it, it could open down clamshell-fashion, flush with the floor. And with the rear window up, it hinged like a conventional door, opening access to 88.7 cu. ft of storage. With the rear seat back down, it could accomodate my skis and even two large bicycles inside its cavernous interior.
My elder son, Aniruddh went daily to Fair Street Nursery School and later to Harry L. Edson school, Kingston in this car. My second son, Ajinkya rode home in this car from the hospital as a three-day old baby.
My 'Stang
In the summer of 1987, I bought this Rangoon red 1979 Ford Mustang fastback. This car, "Washington HTW 430" had Ford's 2,300 cc Lima-four overhead camshaft engine made in Lima, Ohio. It put out 143 bhp and did 0-60 mph in 9.1 sec.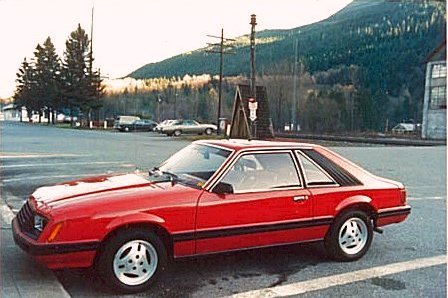 The car had an Alpine 4-speaker stereo and a console housing an electronic digital clock with day/date/elapsed time/stopwatch functions, plus a graphic warning display module that indicated low level conditions in the fuel tank and washer system, and signaled when a headlamp low beam or taillamp/brake lamp needed replacing.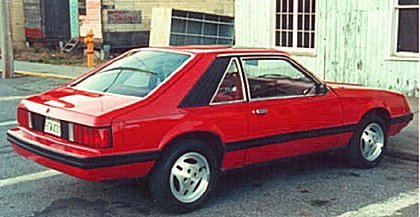 It had a special suspension package with retuned shock absorber valving and front and rear stabilizer bars along with metric-sized forged-aluminum wheels and, for the first time on a Mustang, non-US tires (Michelin TRX 190/65R390 performance radials).
The Mustang would go very fast. I don't know how fast because the economy oriented speedo only went up to 85 mph where it had a stop to block the needle. I distinctly remember max'ing the speedo on that baby on the Interstate freeway I-5 zillions of times.
My European Cars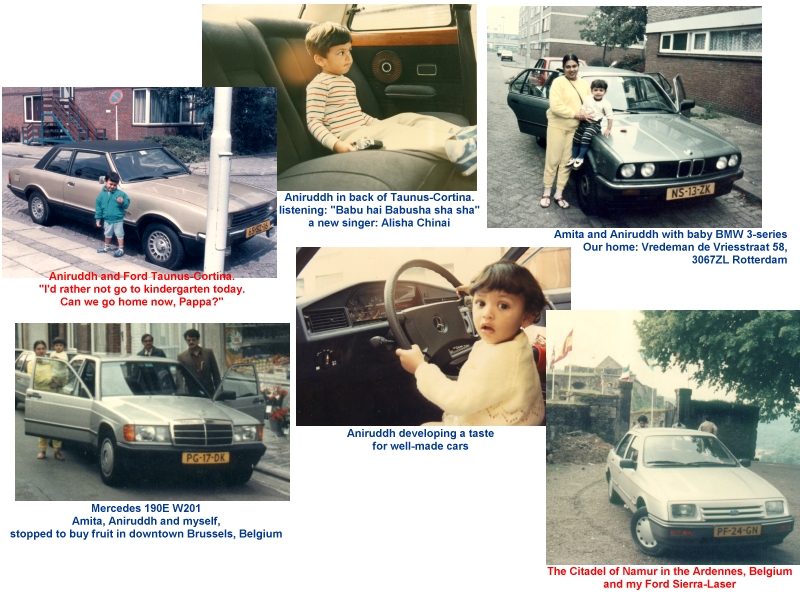 Ford Taunus 2.0 Ghia
My Ford Taunus was a 2.0 liter Ghia model in metallic oyster-gold with a black stitched leather top.and black-velour interior.
The right-hand-drive version sold in the UK was called the Ford Cortina Mk IV. My left-hand-drive version for continental Europe was called Ford Taunus. These cars were manufactured in Köln, Germany.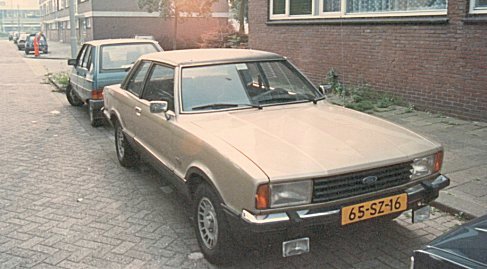 It had OEM cast aluminum alloy wheels and Vredestein Sprint radials.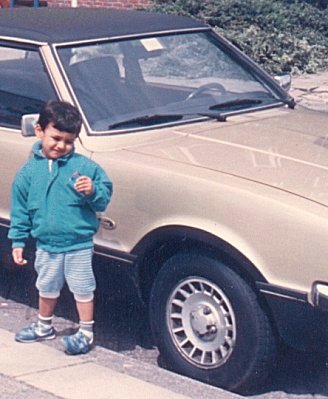 In 1986-87, I lived in in Rotterdam, the Netherlands. That's when I bought this car. 1986 was the year Alisha Chinai debuted as a pop singer with her album "Aah Alisha..."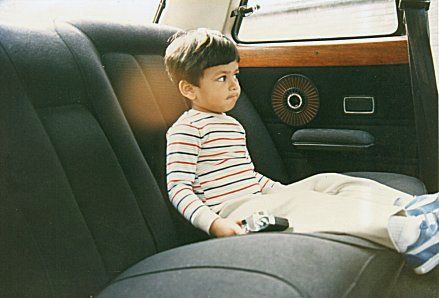 And my son Aniruddh used to love listening to Alisha, whilst riding in the back of the Taunus.
Ford Sierra 2.0 Laser

The Ford Sierra was a medium-size car which debuted in 1983, replacing the boxy Taunus. It ushered in radical, love-it-or-hate-it aerodynamic jelly-mould styling.
With a drag coefficient of 0.34, its shape was ahead of its time and influenced auto design for the future.
It was still a rear wheel drive car, although it replaced the Taunus's live axle with independent rear suspension.
I first saw it in the British 1983 Daily Express World Car Guide and enjoyed driving this car all over Belgium and Luxembourg.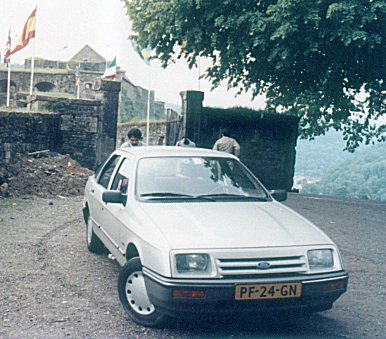 The picture above was taken when we visited the French town of Namur in the Meuse valley in South Belgium.
Mercedes Benz 190E (W-201)
Considered to be the smallest Mercedes in its days, this car had a fantastic driving dynamic and debuted the now-famous independent multilink rear suspension.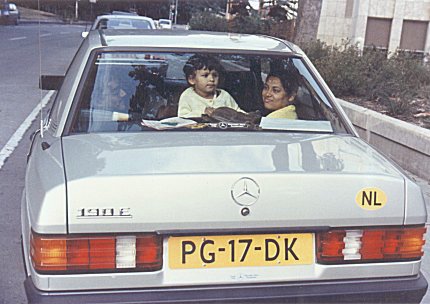 With a 16 valve cylinder head and mechanical valve lifters, its 2.3 liter engine put out 185 bhp. A hot machine.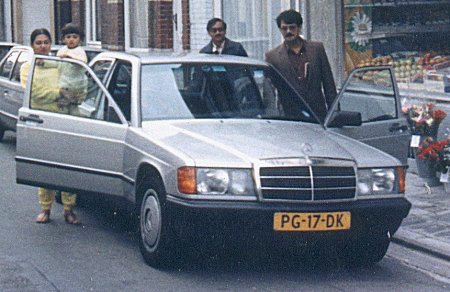 I drove this car all over Benelux. Its headlamps could be manually levelled with a thumbwheel on the dash.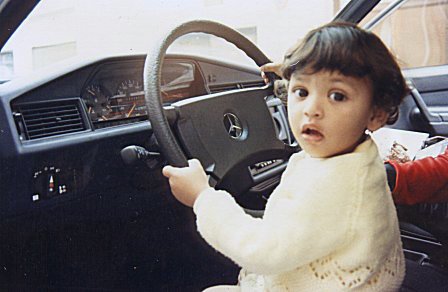 The 3-series baby BMW
My 318i(E30) was a driver's car. They called it a compact-executive car.
The BMW 318i(E30) was designed by Claus Luthe, illustrious designer of the iconic 1967 NSU Ro 80 with the twin-rotor Wankel.

The 318i(E30) had the BMW M10, 1,766 cc, 4-cyl. engine with Bosch Jetronic fuel injection, developing 105 bhp, driving a 5-speed Getrag 240 gearbox.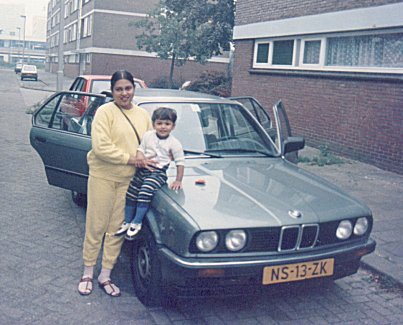 Loved its wrap-around console and aircraft-like red illuminated instruments.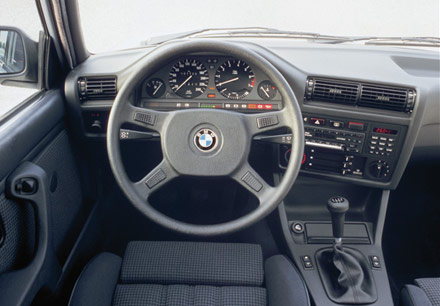 This was the car I have driven the fastest in. 180 km/h on an empty Autosnelweg, early one morning.

---
My lovely Premier Padmini S1 (Fiat 1100-D)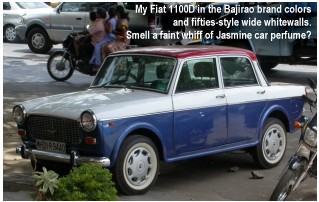 Premier Automobiles Ltd., flagship company of the Walchand Hirachand Group, assembled Fiat's 1100cc cars from the 1950s until 1997. The Fiat 1200 GranLuce Berlina, debuted in India in 1964 with the old faithful 1,089 cc engine. Premier manufactured it at their Kurla, Mumbai plant until they sold majority stake to Fiat SpA in Sept. 1997. With minor modifications over the years, it was variously named, Fiat 1100, Fiat Millecento, Fiat 1100-Delight, Premier President and Premier Padmini.
Towards the end of its innings it even sported a diesel engine from Frateli Negri Machine (FNM), Italy.
My Padmini S1 has a 48 bhp normally aspirated engine, breathing through a Solex carburettor and mated to a 4-speed fully synchromeshed gearbox. The extra 9 bhp being achieved by the use of a thermostat controlled electric fan. After many years, vaccuum advance and retard was reintroduced in the Premier Padmini and the car effortlessly purrs to 120 km/hr. Unleaded petrol was introduced in India in 1995 and my car has a catalytic converter, with an allergy for that other bane of Mumbai-suburbs, speed bumps!
I had this car painted red, white and blue with 2K automotive acrylic. The red and the white were Hyundai colors and the metallic blue was a Tata color.
I have nostalgia for the 'fifties rock-n-roll era cars, with their wide white-wall tires, chrome and laid-back boulevard cruising style. My car has fifties-style 14-inch wheels shod with 5.20-14 wide white wall nylon bias-ply tires--the last of an almost extinct upper-class. Finding 14" wheel covers was a challenge. Aftermarket wheel covers meant for a Toyota Qualis fit the bill. The wheel covers are held to the wheel by a chrome closed centre-nut. The bracket that holds the centre-nut screw was designed for the deep wheel of the Qualis. I had to hammer it into shape for the Fiat.

---
The little Maruti 800
I have been the happy owner of a Moonbeam silver 2002 Maruti 800 DX.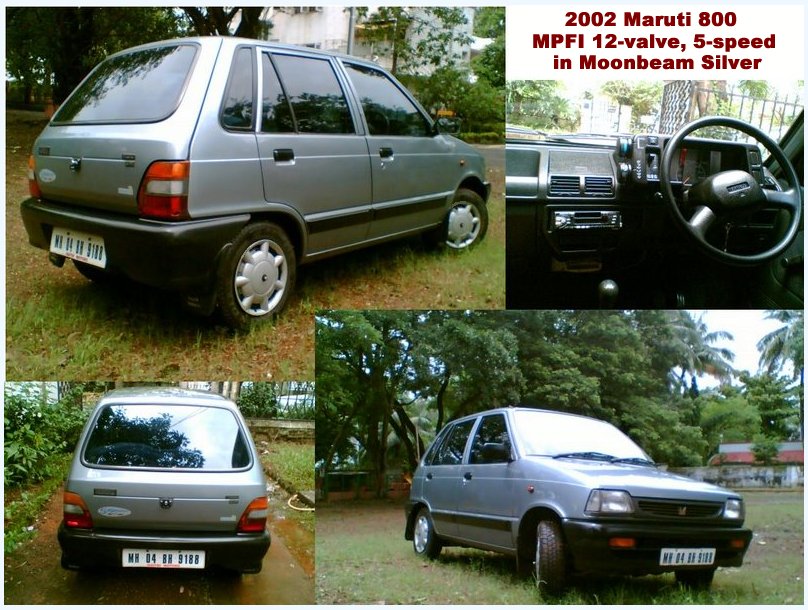 At the turn of the millennium, Maruti decided to produce the Alto to replace their 800 and Zen models.

Two variants were produced, with fuel-injected four-valve per cylinder engines.
A base LX version, with a fuel-injected 3-cylinder 796cc engine for the A-segment
and a loaded VX version with the Zen's 1061 cc 4-cylinder engine (64 bhp/80 Nm torque) for the B-segment car buyers.
Both got a five-speed gearbox.

To test the fuel-injected 4-valve-per cylinder, 3-cylinder, 5-speed gearbox powertrain combination, Maruti installed them on the 800 platform.

That produced the most fuel efficient pocket rocket ever. The car zips around cheerfully and parks on a dime. She is more frugal on fuel than any other Indian car, to date. When the 5-speed 800 started to affect Alto sales in 2003, Maruti discontinued it and downgraded the 800 back to a 4-speed gearbox.

She needed bigger tires
In March 2006, I changed the type of tires on the car.

The old radial tires had been of type: Goodyear 145/70R12-69S.
The first number: 145 is the tire's section width in millimeters from sidewall to sidewall, under no load.
The second number 70 is the aspect ratio. The ratio of the section height (height of the tire sidewall), expressed as a percentage of the width. In this case, 70% of 145mm is 101.5mm - the section height.
The third number 12 is the metal wheel rim diameter (in inches) that the tire is meant for. Why do they mix inches and millimeters? Beats me! Couldn't they have kept the spec. all metric and simply called it a 145/70R305?
The last number 69 is a load capacity index. It refers to the load carrying capacity of the tire at maximum air pressure. A 69 rated tire is good for 325 kg load on each wheel. The "S" means that the tire is good for speeds upto 112 mph [180 km/hr]

Anyway, the choices with me for new radials for the Maruti 800 were
145/70R12 (the original size), 155/70R12 and 145/80R12.

Tire width translates to the area of contact with the road, influencing rolling friction and therefore fuel economy. I thought of upgrading to bigger rubber, for better comfort, without compromising the section width.

So I purchased a set of 5 MRF ZVTS 145/80R12-74S radials, from Guardex Tyres, Chembur, Mumbai. They are an MRF tyres & service outlet. The new tires set me back by Rs. 7,875/=

The 74 rated tires are good for 375 kg load on each wheel.
I also had the wheels dynamically balanced and the suspension geometry angles realigned.



Positives:


The car now drives like a dream. The ride quality, absorption of noise, vibration and harshness is decidedly superior. The rough and patchy roads of Pune, are less likely to ding and dent the wheel rims. I plan to change to 12" alloys next. The ground clearance has gone up by 1.45 cm. And the overall gearing is now 5.7% taller, so there is better fuel economy.

And importantly, the bigger wheels don't interfere with the wheel-wells, neither while steering nor while bouncing over a speed-bump. An initial concern which turned out to be a non-issue.



Negatives:


The overall diameter has increased from 507.8 mm to 536.8 mm. This means that the speedometer and odometer indicate readings 5.7% less than actual. When the speedo indicates 100 km/hr, the car is actually doing 105.7 km/hr.
The spare wheel is now slightly larger than the space available in the recess in the luggage compartment. Tweaked the welded steel strip that holds the wheel down, to accommodate the new wheelsize.


---
I used to run a weekly spot-the-car contest at www.cybersteering.com.