Observing a hindi film song live orchestra rehearsing
Baji J. Ram Rao
07:21 +0530 Sat. 19-Dec-2015
update: 08:00 +0530 Wed. 23-Dec-2015
Fri. 18-Dec-2015, I got my cherished opportunity to closely observe a good hindi film music orchestra, sitting right next to the main keyboard.
One of my close friends was rehearsing his songs and had invited me to the rehearsal.
Refreshingly, all the musicians were "music literate" and played off proper written scores.
The orchestra's arranger-owner was Mr. Sanjay Marathe, playing a Roland Fantom-Xa. This has 128 note polyphony.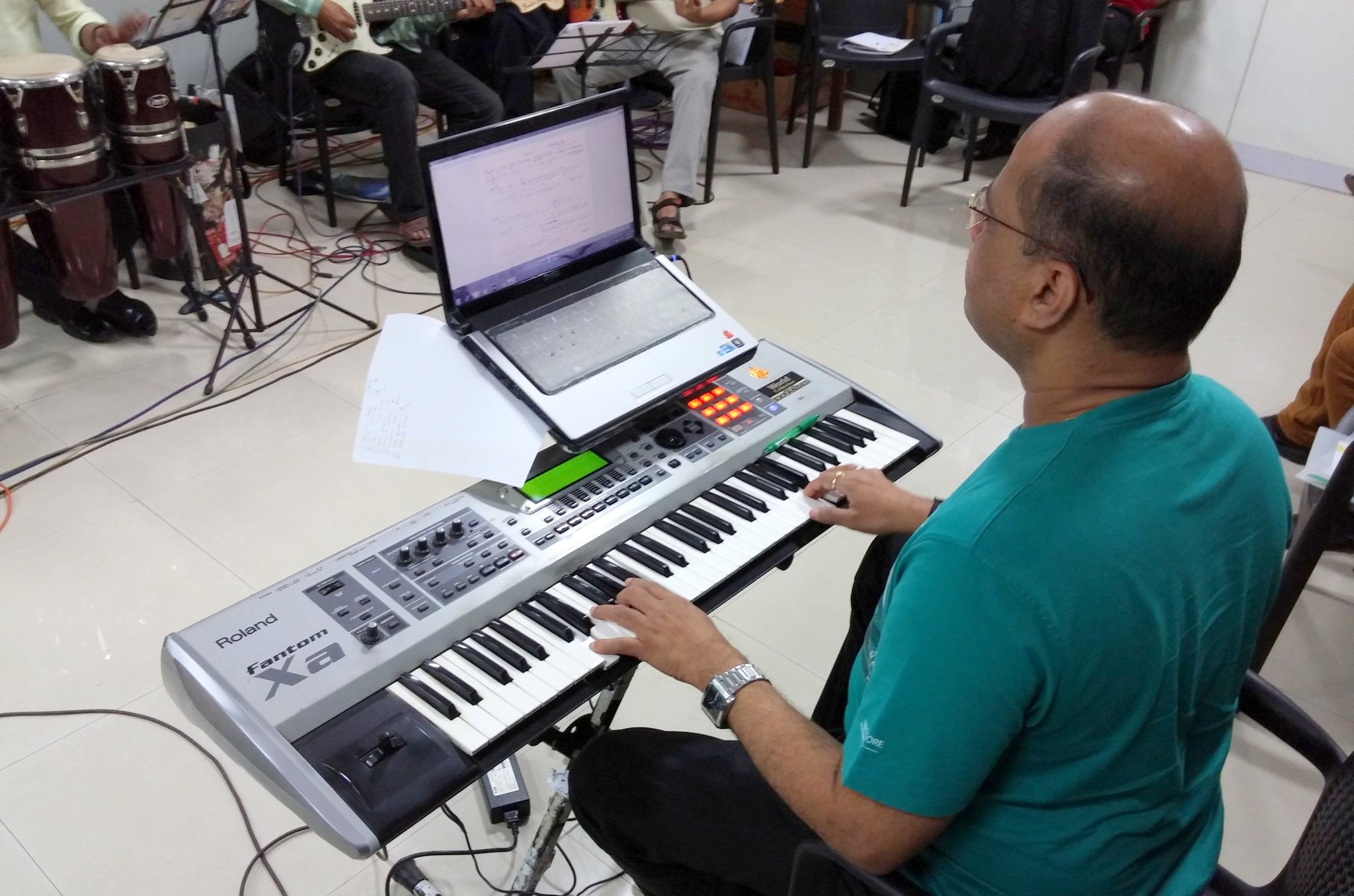 Sanjay Marathe at the Roland Fantom Xa.
The laptop shows score displayed as scanned handwritten sheets.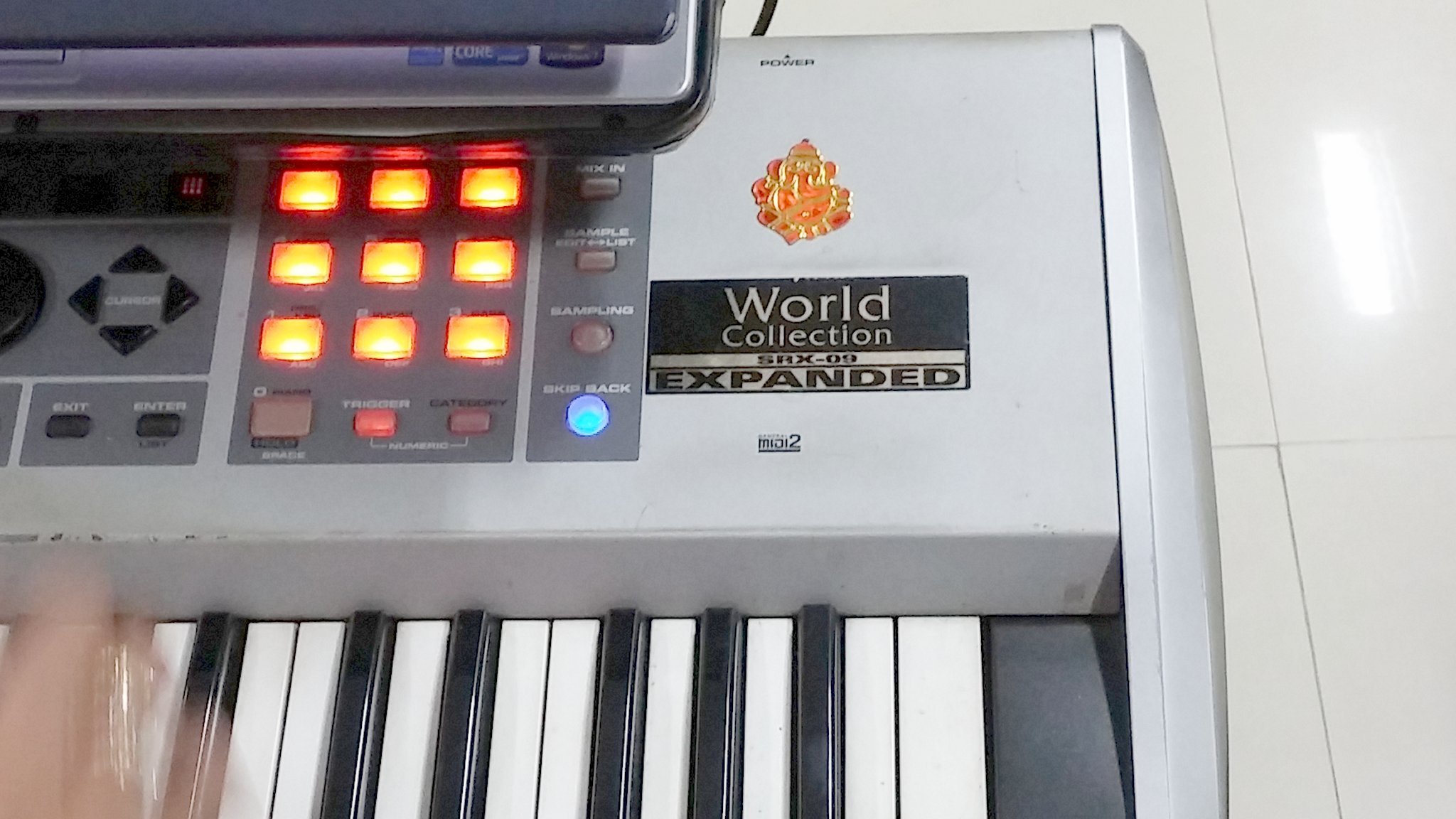 Sanjay Marathe's Roland Fantom Xa had an add-on board installed
-- the Roland SRX-09 world expansion board -- an electronic circuit board with 64MB ROM
containing patches (timbres) and rhythm sets (drum kits). This SRX-09 circuit board offers sitar and other sounds from India, the Middle East and Latin America.
There was a supporting Korg Triton Extreme keyboard played by Mr. Prasad Pathare. This is a workstation synthesizer featuring digital sampling and sequencing. Reportedly world famous as a benchmark of keyboard tech. the Korg Triton uses -- would you believe it? -- a dual-triode vacuum tube amplifier.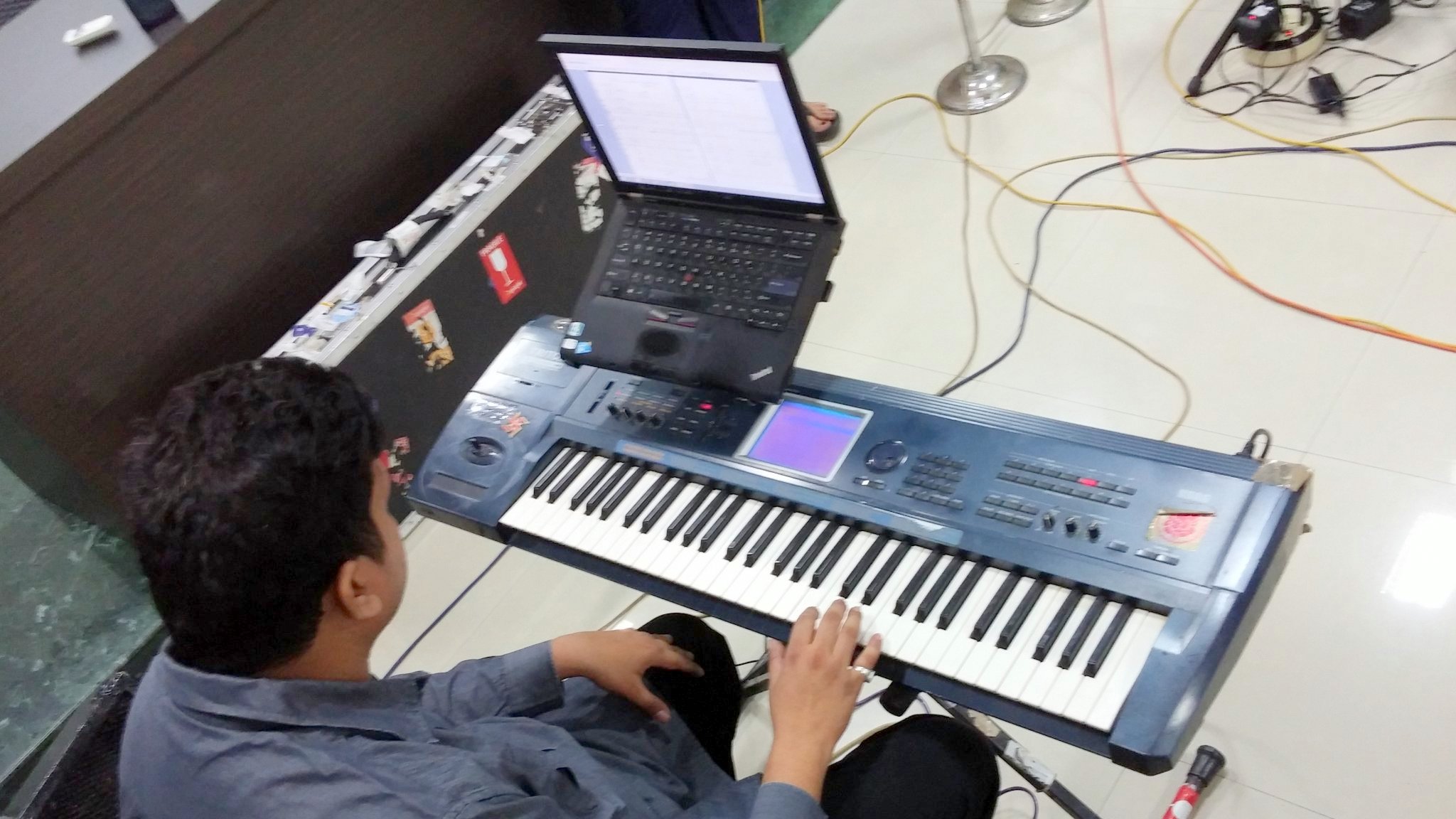 Prasad Pathare at the Korg Triton Extreme.
The laptop is used for score displayed as scanned handwritten sheets.
Vaccuum tube in this early 21st century we live in! Really?
Korg's Valve Force circuitry claims to offer added warmth, fullness, and power at the final output.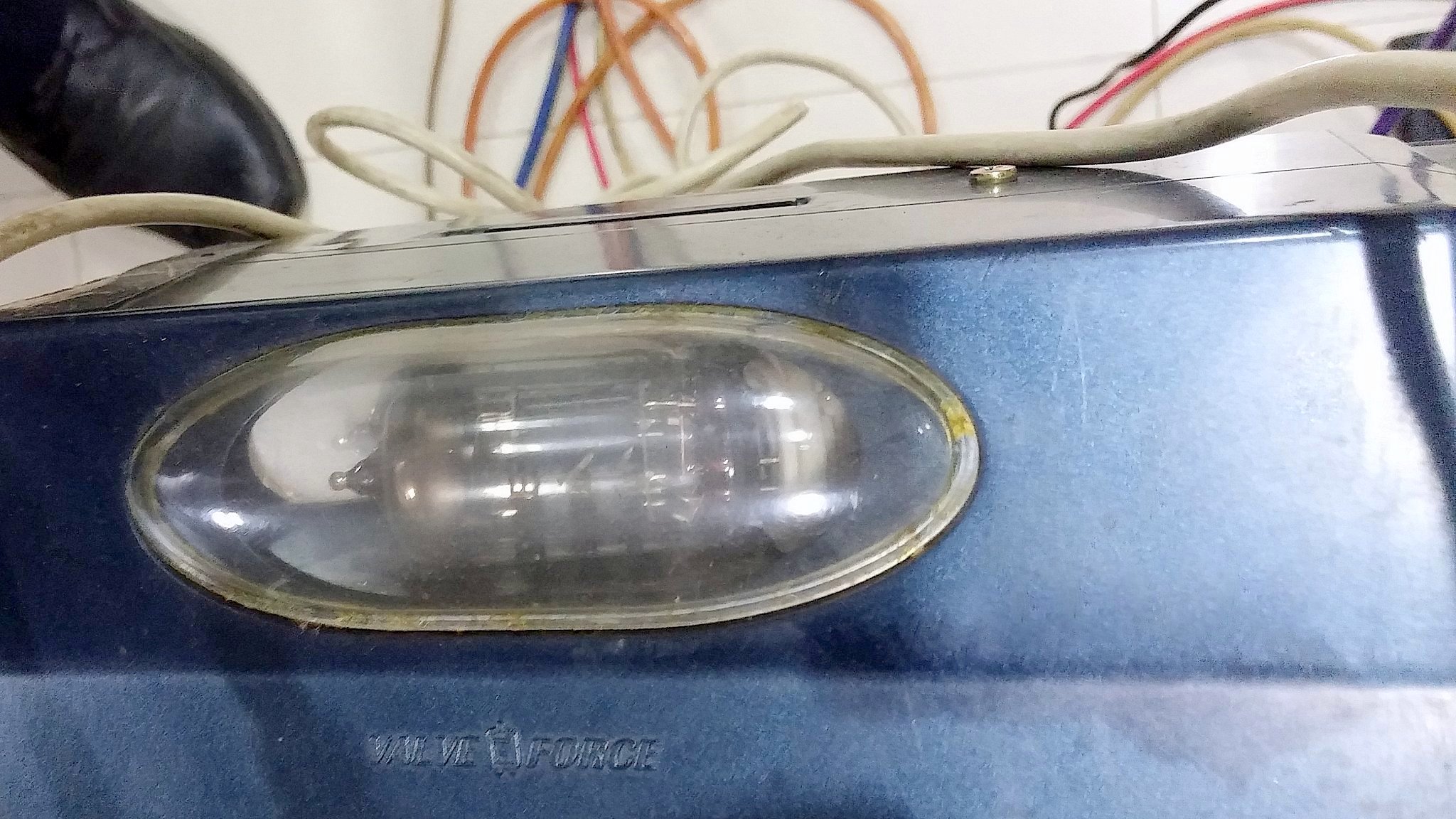 External sources can also be sampled through the valve force circuitry for a distinctive 'tube' quality. Boosts the bottom end of the sound without muddying it.
Basically you can route your audio signal through the valve to the outputs, or just straight through to the outputs. It takes a cold hard digital sound, and puts it through an analog valve........which makes the sound 'warmer'. You can also overdrive the valve, and that gives it a nice fat distortion.
Both these keyboards are refreshingly different in sound quality from the Roland XP-60 that we get to see in most typical orchestras in Mumbai.
Percussion
The percussion section consisted of a Roland SPD-20 octapad supported by a Roland SPD-5X sampling pad. There was also a tumbadora, bongo and dholak.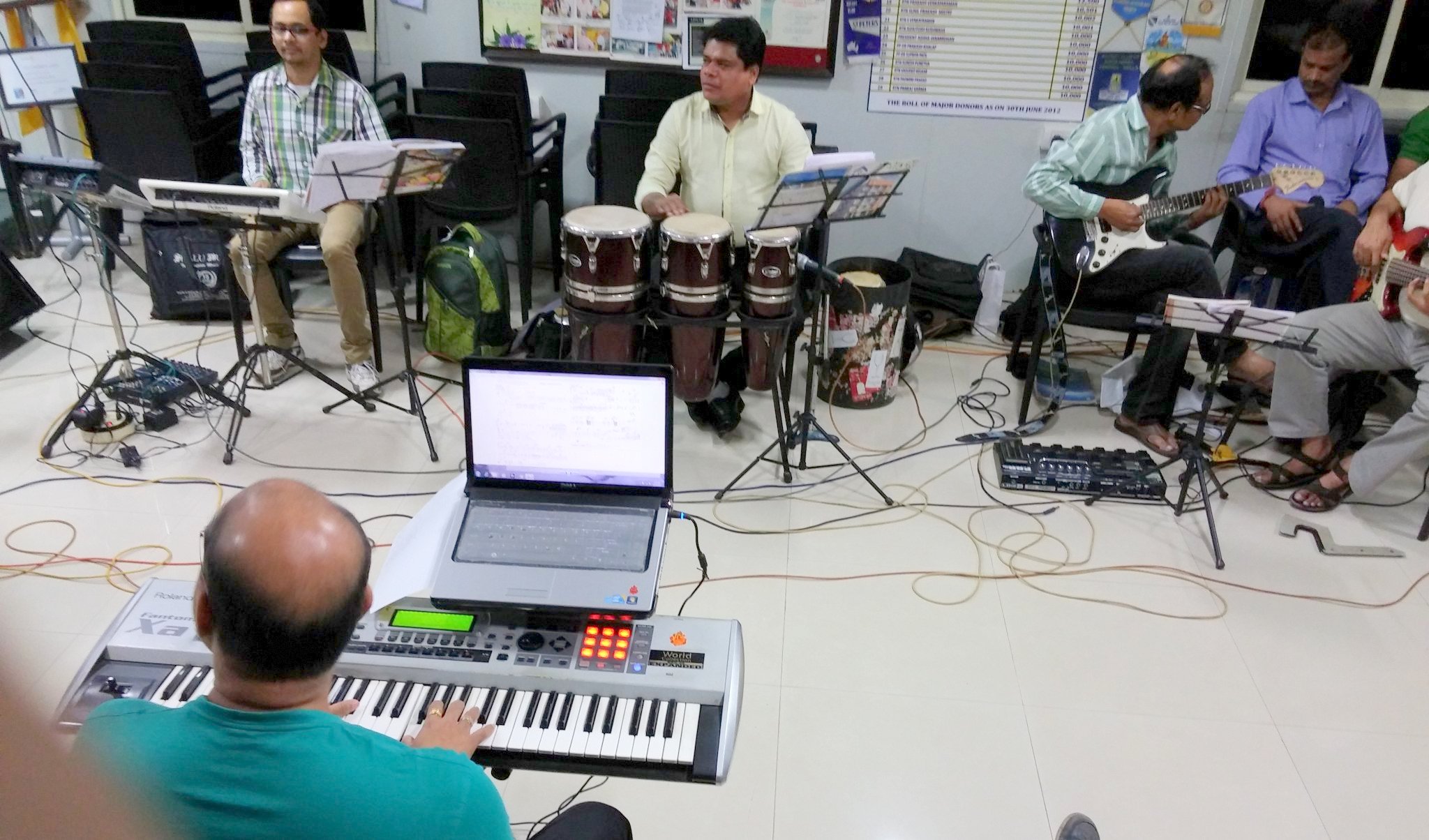 Rupesh Rane on Roland SPD-20 octapad supported by a Roland SPD-5X sampling pad.
Vinay Mangde on tumbadora. Shamim Seikh on guitar.
The Roland SPD-5X sampling pad lets the musician sample snippets from his favorite mp3s. It has 9 pads total of which 3 are edge pad and it has red lights that light up in relation to amplitude. There was also a dholak, bongo and tumbadora. The percussionist had an 8-channel Yamaha mixer of his own.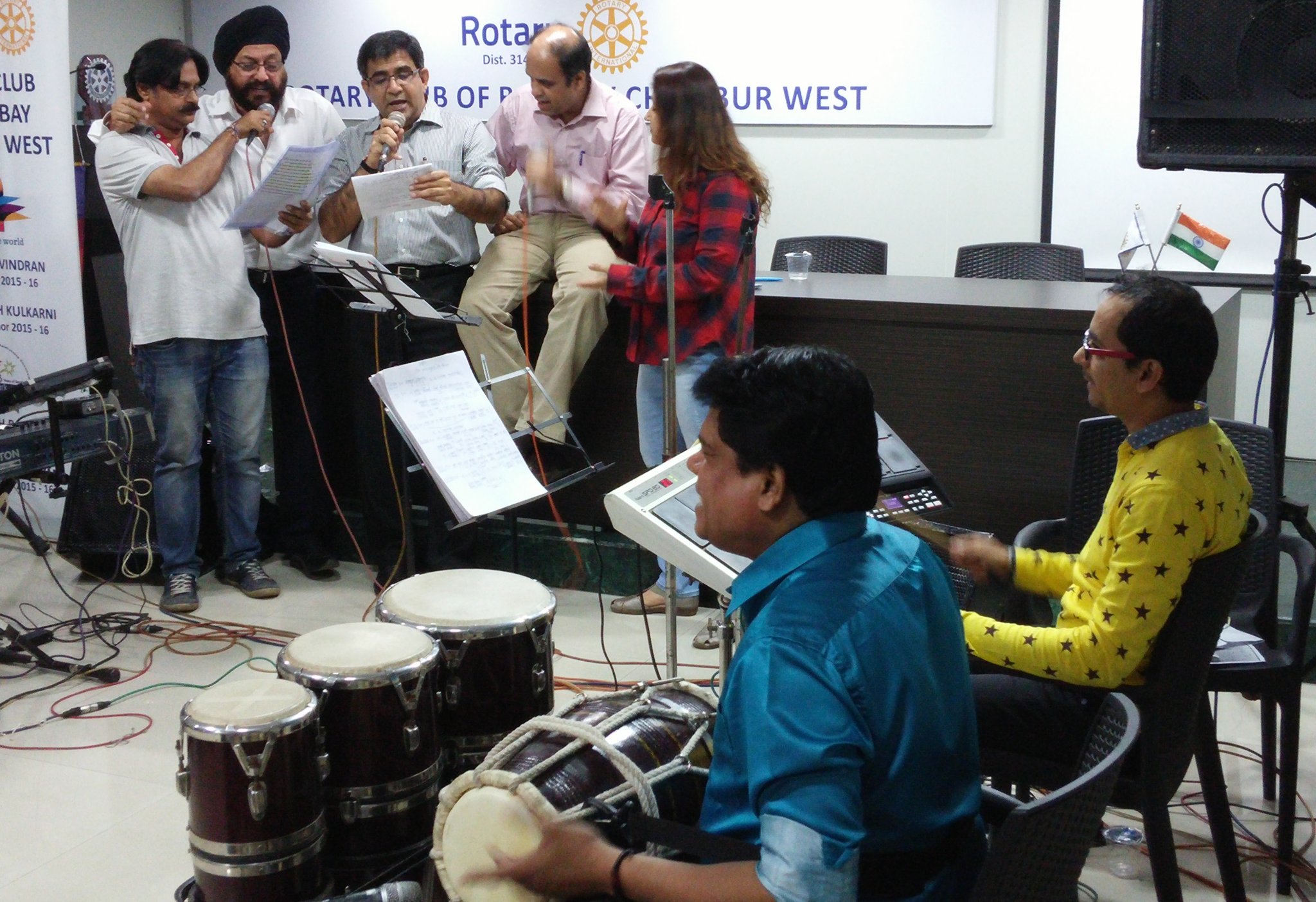 Second day.
Note written score for Octapad and sampling pad percussion.
Vinay Mangde is on the Dholak, and Rupesh Rane on the Octapad
Guitar Section
The guitar section had a lead guitar and a base guitar.
The lead guitar was a US-made Fender Stratocaster driving a Line 6 PODxt Live Guitar Amp Modeling Pedal (on the floor).
The base guitar was also a Fender.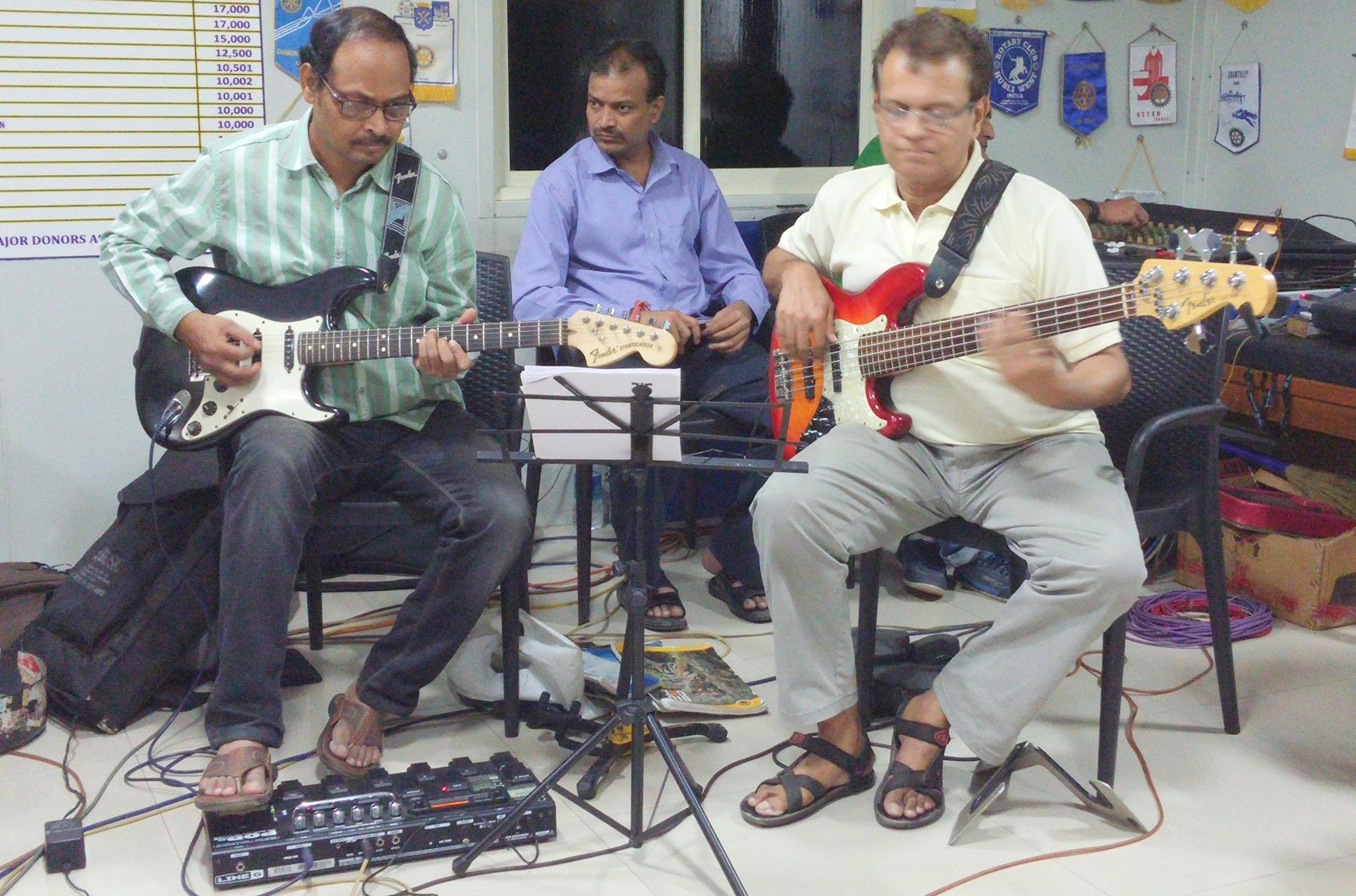 On the second day of rehearsal, Shamim Seikh replaced the Line 6 PODxt Live Guitar Amp Modeling Pedal, with a Roland Boss ME-70 multiple effects pedal. The flanger and phaser effects to the guitar come from this.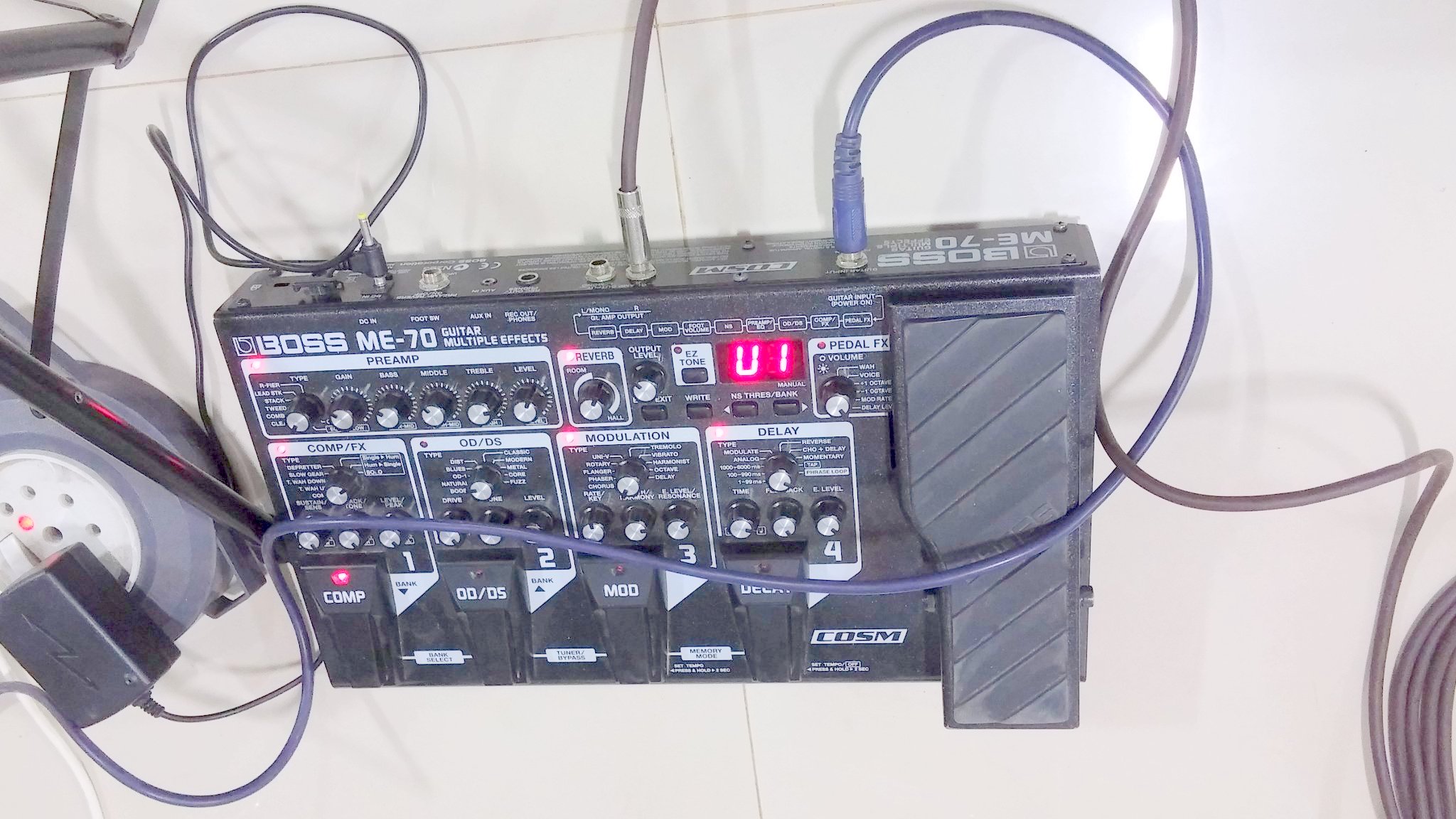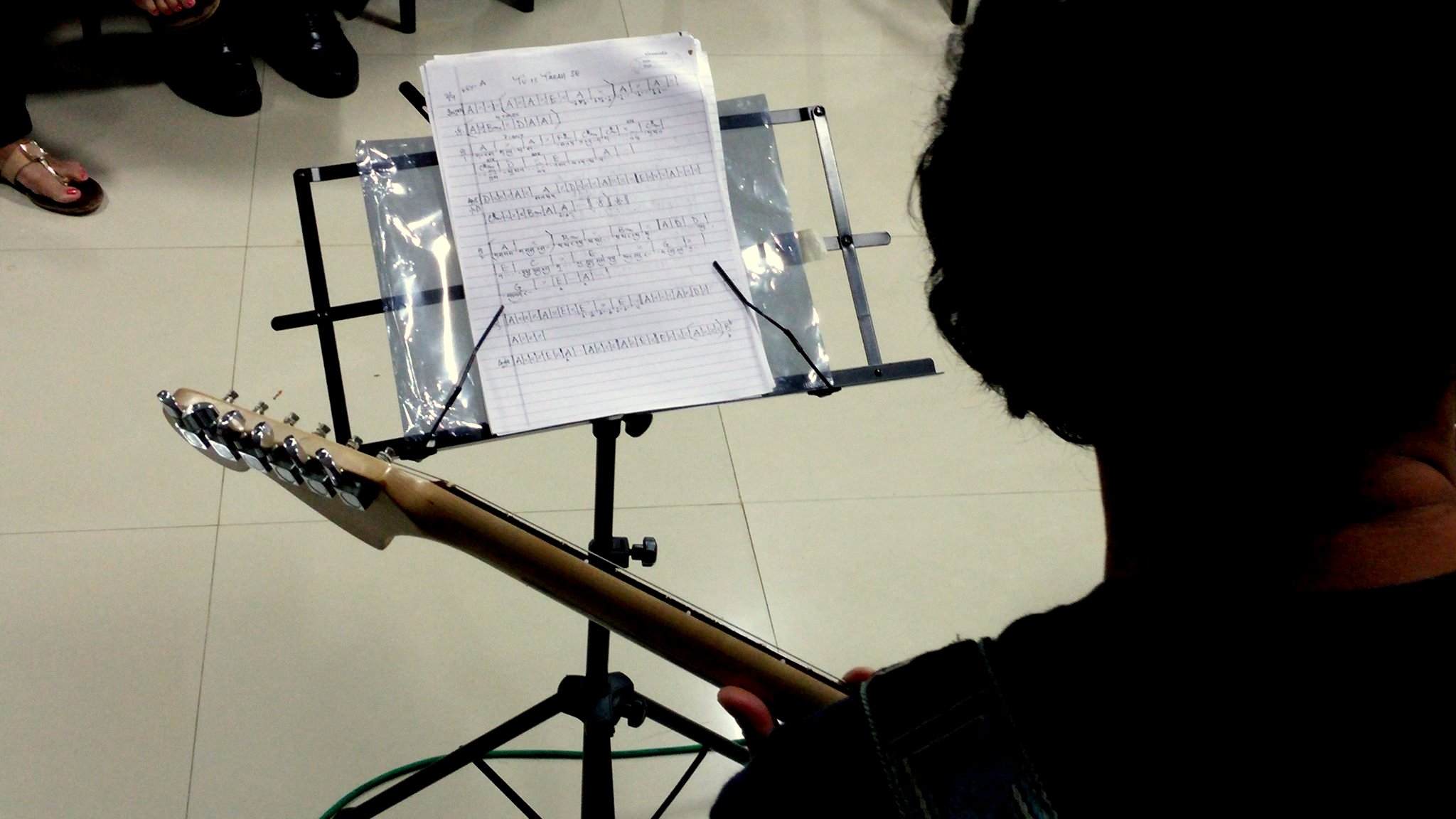 As with every single one of Sanjay Marathe's musicians, the guitarist used written scores.
Mixing console(s)
There were two mixers: an elderly Yamaha EMX2300 12-channel powered mixer and an Enping Lane 802D 8-channel mixer.
The main mixer drove two front-of-house speakers. The aux. mixer drove two foldback monitors.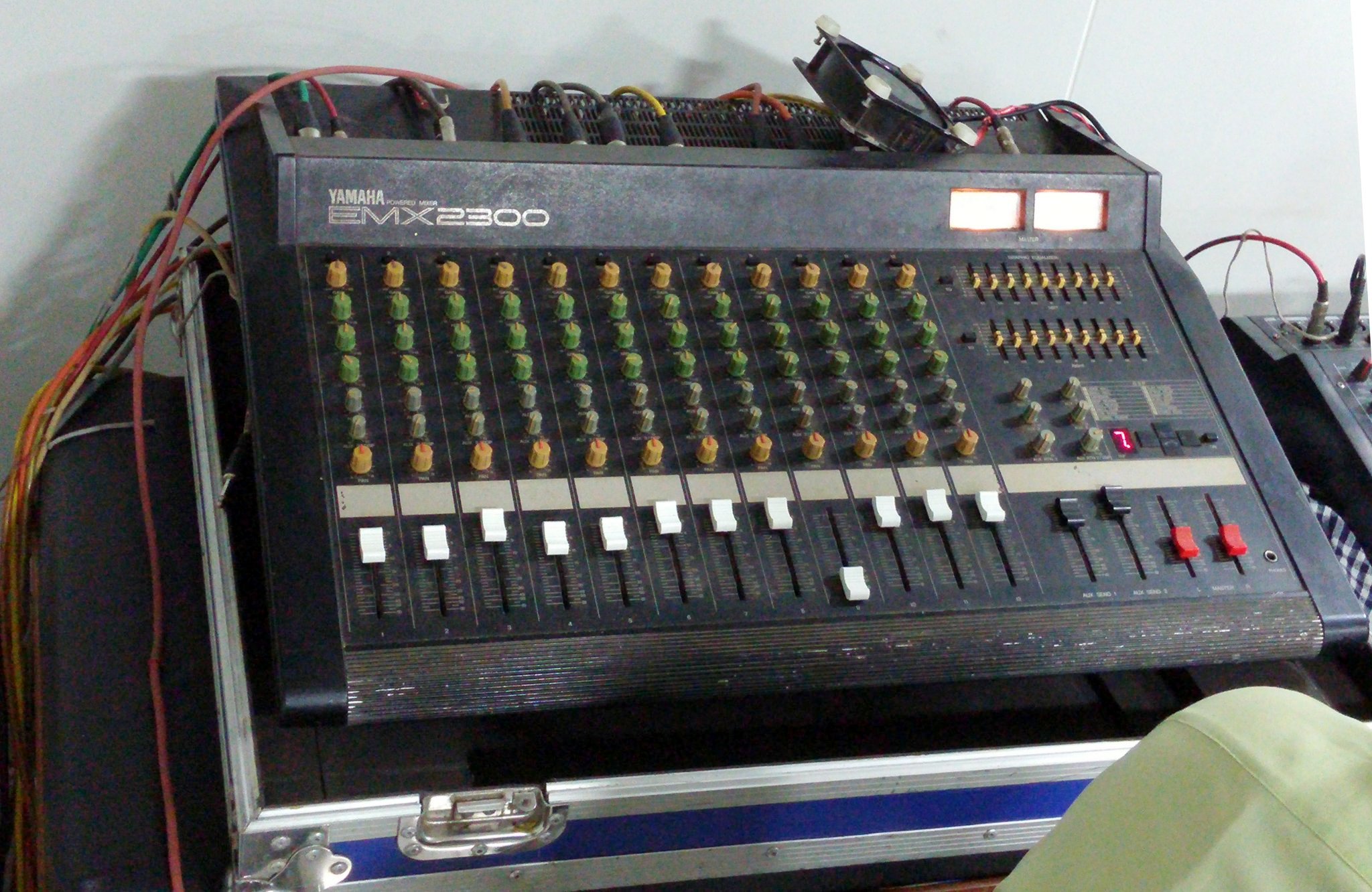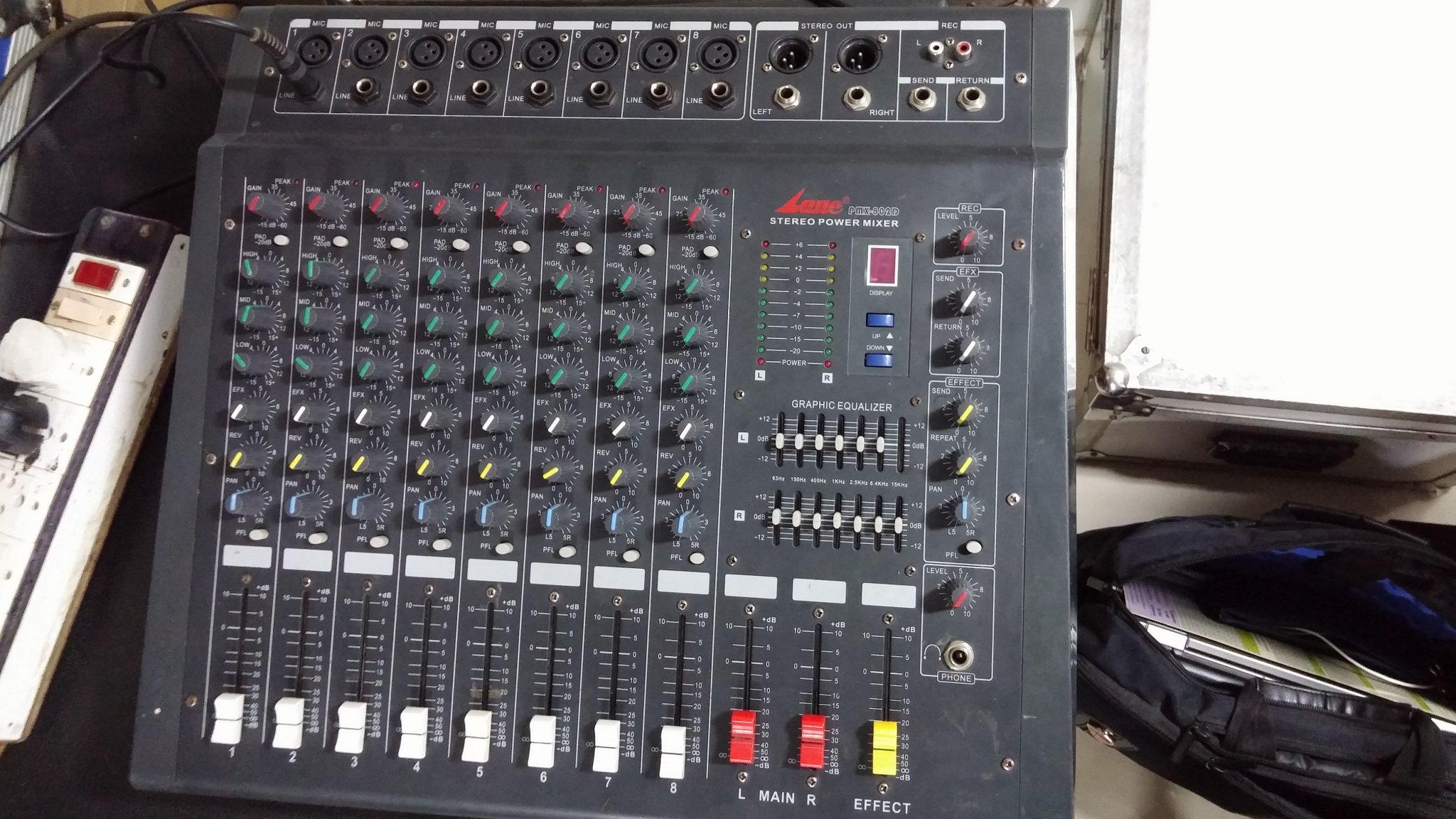 The sound folks: Godfrey's God Sound of Old Barracks, Chembur, had provided 4 microphones and 5 lines out for the two keyboards, two guitars and octapad mixer.
Software
The songs sung were: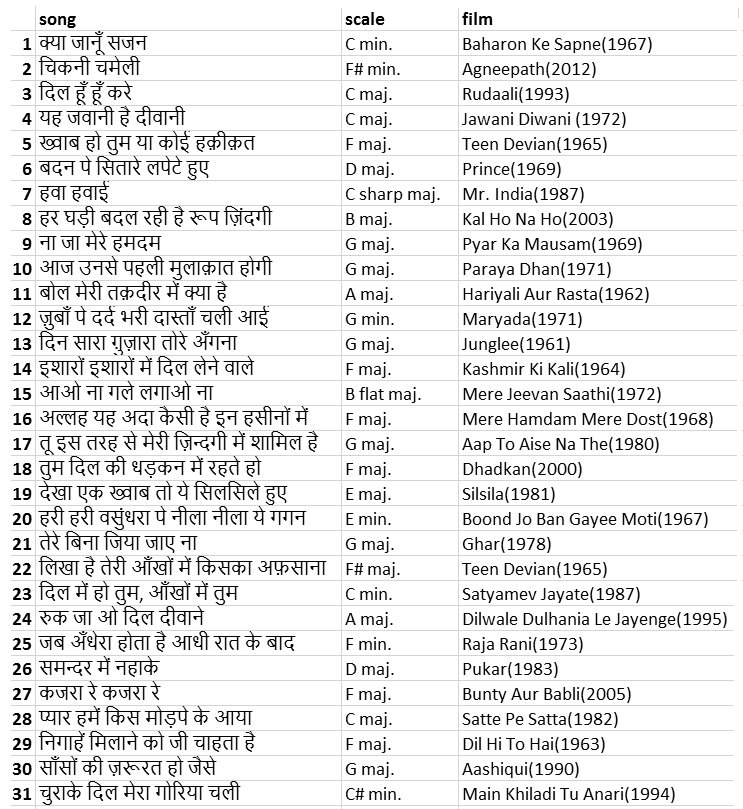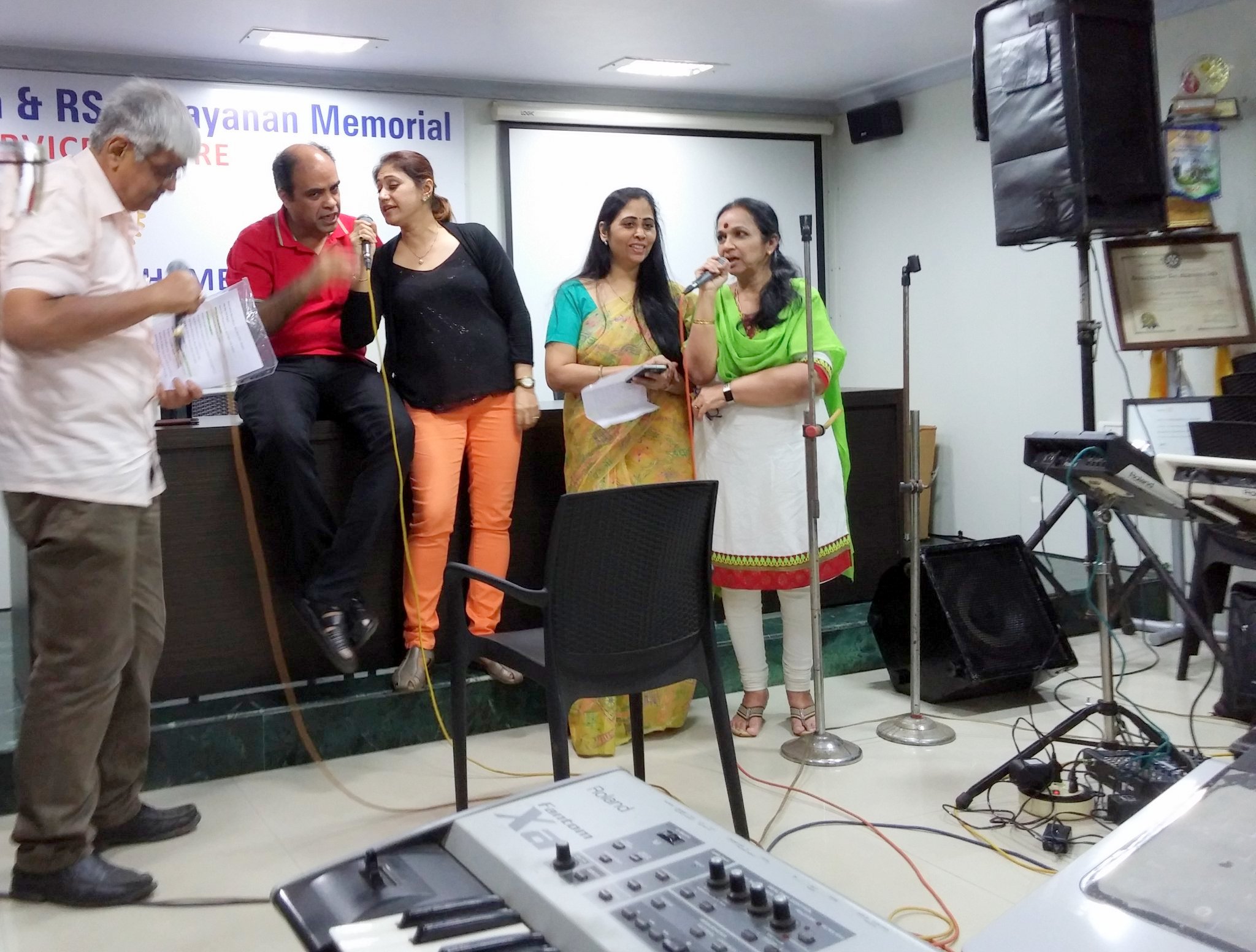 Observations
The musicians use the Hindustani solfège: सा रे ग म notation bracketed in measures and bars of the Western notation.
The keyboardists shared between themselves on USB pen drive, scanned copies of handwritten accompaniment.
These were displayed on their respective laptop computers, mounted on their keyboard stands.

I asked them why they did not use the western music staff notation (used by musicians globally). They talked about ease of transposition. Many amateur singers cannot accommodate their song's original scale and need the scales transposed. Such transposition was easier done with Hindustani music's relatively pitched सा रे ग म than with the absolute pitches of western music's staff notation. Of course the harmony and chords borrowed by Bollywood from the west, present a challenge of their own to transpose.


Singers and music lovers (as of 2015), seem to prefer songs between 1962 and 1972, with the peak of the bell curve occuring around the year: 1967.