raat bhii hai kuchh bhiigii-bhiigii (रात भी है कुछ भीगी-भीगी)
Today, Tue. 03-Feb-2015, is Waheeda Rehman's 77th birthday.
One of my two favorite Waheeda songs, is:
"रात भी है कुछ भीगी भीगी, चाँद भी है कुछ मद्धम-मद्धम"
from the film: Mujhe Jeene Do(1963).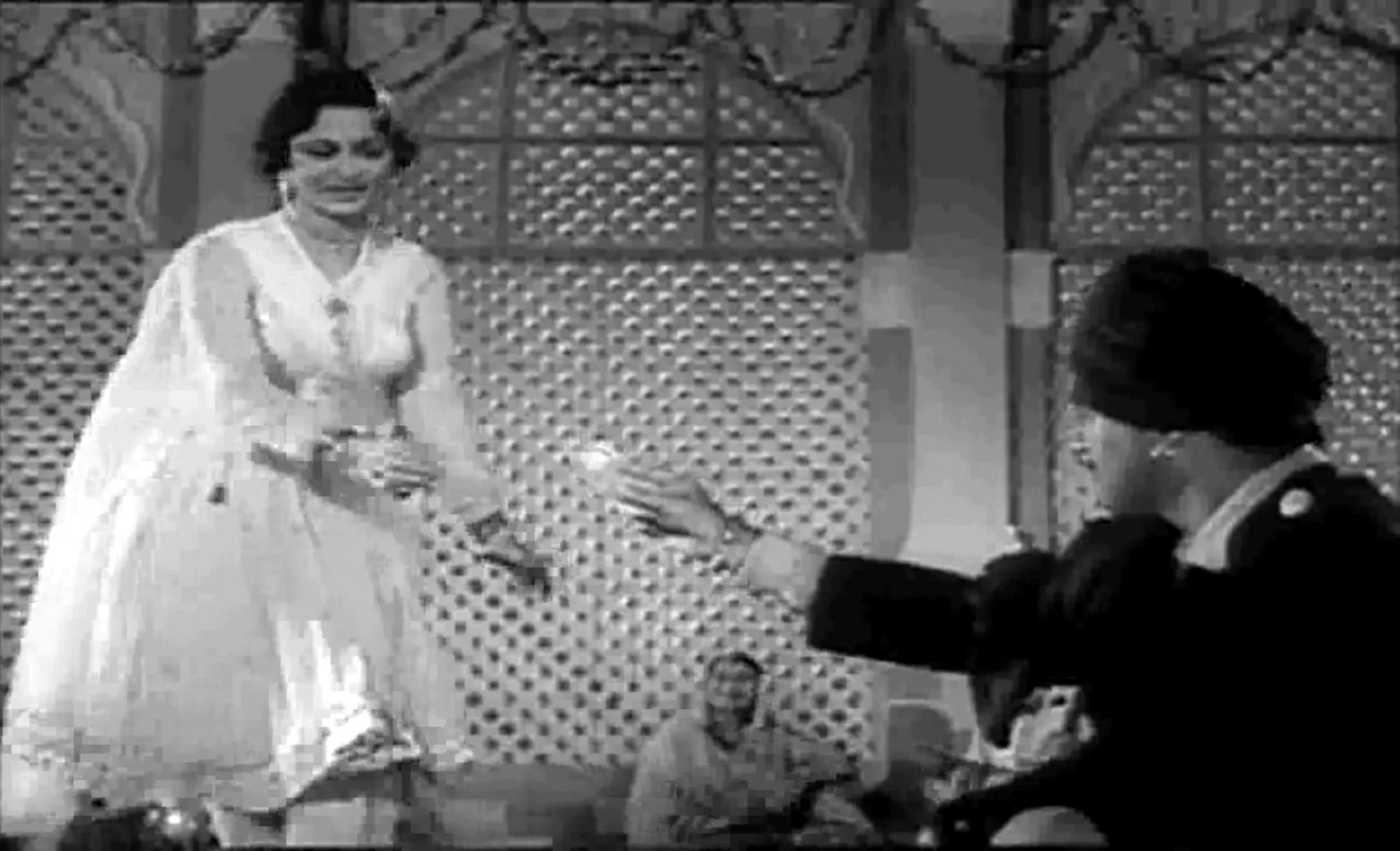 Click on image to go to YouTube video
video updated on Thu. 31-May-2018
Location
Mujhe Jeene Do(1963) by Sunil Dutt's production banner, Ajanta Arts, was shot in the Chambal Valley ravines of Bhind-Morena under police protection in Madhya Pradesh
and in Mohan Studios, Mumbai.
The film was officially selected for the 1964 Cannes Film Festival.
Picturization
A wonderful, Lata Mangeshkar mujraa song, danced by a 25-year-old Waheeda Rehman on a mirror floor, with the 34-year-old dacoit Sunil Dutt giving her, fierce abductor stares and bestowing her with a clutch of huge white-bordered 1963 currency notes!
Simple and yet magnetic. Beautiful, in every way – Sahir Ludhianvi's poetry, Jaidev's lilting music, Lata Mangeshkar's voice and Waheeda Rehman's grace.
Lyrics
किसको बताएँ? कैसे बताएँ?
आज अजब है दिल का आलम!
To whom shall I narrate (it)? How shall I narrate (it)?
Peculiar today, is the condition of my heart!
चैन भी है कुछ हलका-हलका,
दर्द भी है कुछ मद्धम-मद्धम!
There is a light (sense of ) contentment,
and a muted (sensation of) pain!
तपते दिल पर यूँ गिरती है,
तेरी नज़रसे प्यार की शबनम
Onto (my) scorched heart drips thus,
the dew of love from your glance!

जलते हुए जँगल पर जैसे,
बरखा बरसे रुक-रुक, थम-थम
As on a burning jungle,
(would) rain, rain (hesitantly and sporadically).

होश में थोडी बेहोशी है,
बेहोशी में होश है कम-कम!
In (my) senses is a little senselessness;
in (that) senselessness, is dwindling sensibility!

तुझको पाने की कोशिश में,
दोनों जहाँसे खोए गए हम !
In the attempt to make you mine,
I was lost from both worlds!
Mesmerized !!!