1950 Buick Super convertible
Didn't we play with stamped, deep-drawn tin toys with friction-powered motors, in the 1960s?
Well, back in the summer of 1996, I saw this vintage toy Buick Super convertible in a store in Yokohama, Japan, and bought it, out of a sense of nostalgia.
They were so rare in 1996 and seem even more so now, in 2014.
The toy car is made in Japan by a company called
Fifties Co. Ltd. @ 1-29-13, Horikiri, Katsushika-Ku, Tokyo, Japan
The toy is 28 cm long. The real car is 209.5" long. That yields an unusual scale of 1:19.
Here is a long shot with other everyday artifacts to hint at scale.
Common everyday artifacts around serve to hint at scale.
And here is a close-up.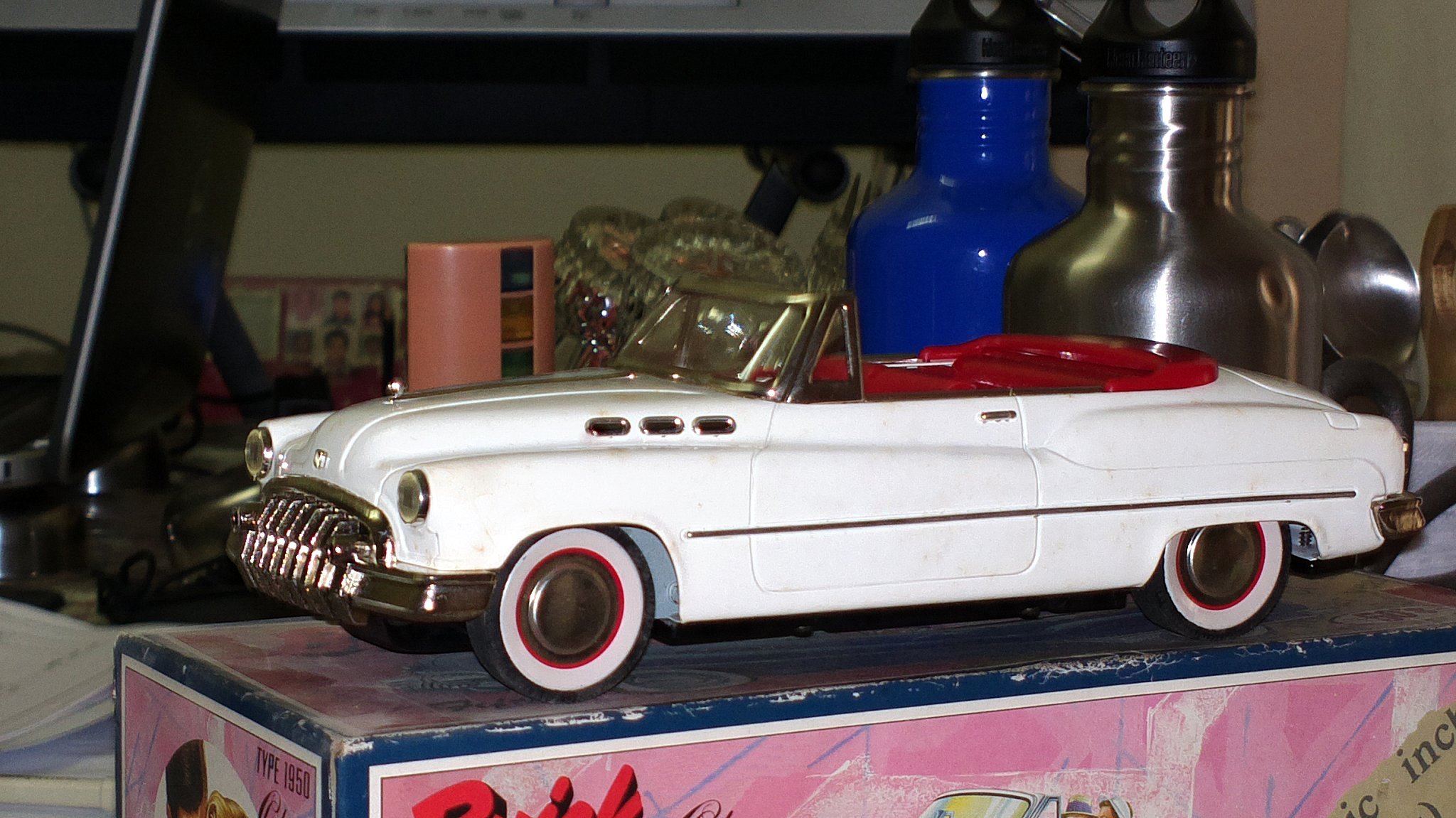 Love the cream body paint, white wall tires and red interior.
The three VentiPorts in the hood, mean it has a the 263 cu in (4,310cc) Buick Fireball inline eight cylinder engine.
Styling
The 1950 Buick Super's body platform was the General Motors C-body platform. It shared the platform with the Buick Roadmaster but on a shorter 121.5"wheelbase, compared to the Roadmaster's 126.25" wheelbase
New for 1950 was this all-new bumper guard grille and more rounded styling.
Buicks had full wheel chrome trim discs as standard.
VentiPorts
Buick's styling chief was Ned Nickles. He had installed four amber lights on each side of his own 1948 Buick Roadmaster's hood. These lights were wired to the distributor so as to flash on and off as each piston fired, simulating the flames from the exhaust stack of a world-war-two fighter airplane.
Buick chief Harlow Curtice was so delighted with the look, that he ordered (non-lighting) portholes to be incorporated on all 1949 Buicks and named, VentiPorts.
1950 Buick Supers had three chrome-trimmed VentiPorts on each side of the hood.
The three chrome VentiPorts denote its smaller straight-eight engine and shorter engine compartment, compared with the Buick Roadmaster.
The windshield was a curved one-piece glass.
Combined with the bombsight hood mascot, VentiPorts made the driver believe he was flying an imaginary fighter airplane.
Engine
The 1950 Buick Super came with a new for 1950, larger F-263 cu in (4,310cc) Buick Fireball inline-8-cylinder engine, breathing through a single one two-barrel carburetor, and putting out 128 bhp with Dynaflow.
The new engine was designed to operate on the new postwar higher-octane fuels.
Dynaflow
This 1950 Buick Super had Dynaflow automatic transmission and a chrome script announcing that on the rear fender. (The Japanese did not put that chrome script on my toy!)

Buicks equipped with the Dynaflow transmissions were unique among American automobiles of the time.
The occupants of the car could not detect the tell-tale interruption in acceleration when other automatic transmissions of the time shifted through their gears. Acceleration through a Dynaflow was one smooth experience. This automatic transmission had no changing gears. Dynaflow just used the torque converter to couple the motor to a single gear ratio.
The car could top over 90 mph (140 km/h) with this Dynaflow automatic transmission.
Appointments
The 1950 Buick Super provided luxury features such as a cigar lighter, ashtray, and automatic choke.
The convertible was trimmed in leather and leatherette and had a power-operated top, power-operated seats and power-operated windows as standard equipment.