Toys introduce the world of technology and engineering
One's first introduction to the world of technology and engineering comes from one's toys, as a child.
One holds that one's toys and constructor kits in childhood and adolescence, guide and mold one's concepts and world view of technology and engineering.
This happens much before one attends engineering college and absorbs all the serious mathematical framework, required to design complex engineering systems.
Differential equations, their power series solutions, LaPlace transforms, linear algebra, vector space, eigenvalues, curves and surfaces, Fourier transforms, conformal transforms, Taylor series, ...
As an elementary school boy, I was fortunate to experience and play with a lot of Russian, Polish and East and West German toys
-- construction kits, model cars and battery operated toys.
How did that come to be?

Like many, my generation grew up in the city of Bombay, India.
My late father was a scientist with the Bhabha Atomic Research Centre from the 1950s until his death in 1983.
He was one of the early scientists that worked closely with Dr. Homi Bhabha.
Back then it was called the Atomic Energy Establishment and operated from Old Yacht Club premises, Bombay. They relocated to Trombay in the mid 1950s.
Dr. Bhabha sent my father, on a one year study tour, from 11th Jan 1961 to 18th Feb 1962 to Poland, East Germany and U.S.S.R.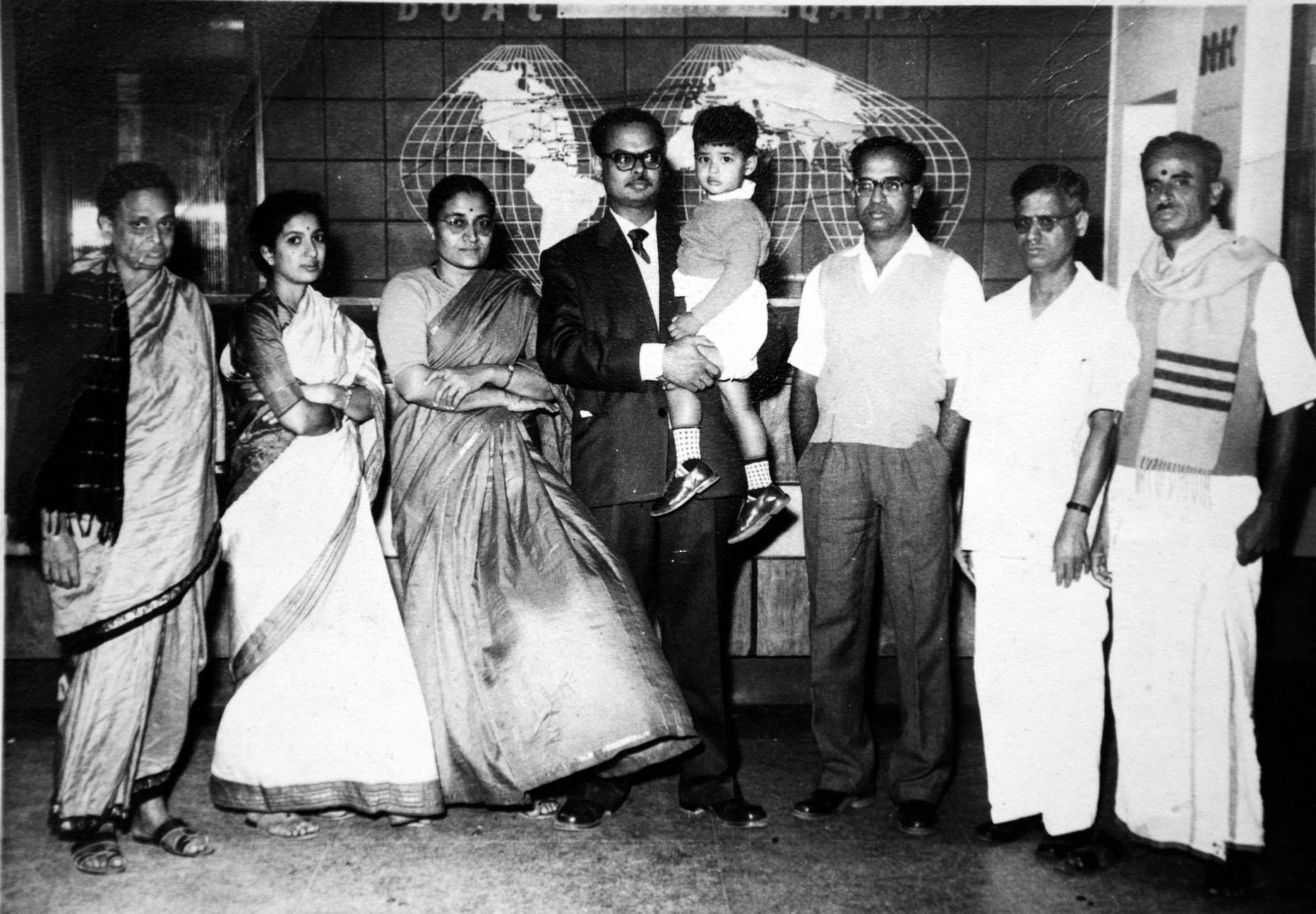 Wed. 11th Jan 1961. The day my father flew to Europe in an Air-India Super Constellation.
In my father's arms, I am 3 years and 1 month old.

(left to right: My grandmother: Yamana bai Baji Rao [53], Gopika aunty[29], my mother[30], my father[33], me[3 years 1 month], my uncle: Bhima Rao[36], a close family friend: Mr. S. Padmanabha Rao, my father's uncle: L. Sundarraj Rao).
Air-India ushered in the jet age, by flying their first Boeing 707-437 turbojet flight, Bombay → Tokyo, five days later on 16th Jan 1961.
Four days after that, US president Eisenhower handed over charge to the incoming president John F. Kennedy.
My father left for Europe when I was 3 and returned when I was 4.
During 1961, he lived in Poland, East Germany and U.S.S.R. and learned to communicate in both Polish and Russian.
My first toy car
My first toy car was a battery-operated plastic car with electric motor and working headlamps. The year was 1961 and my toy was made in Poland.
The 3 "D" size batteries that powered it were contained in a separate longish handheld metal box.
The box also had a green "forward" push button and a pink "reverse" push button for the motor.
A separate plastic spring-loaded remote steering "tiller" controlled the front wheels using heavy-gauge steel wire. A spring forced the front wheels to the full right position. Squeezing the hand-held "tiller" fully would pull steel wires and force the front wheels to the full left position.
Somewhere in between, with partial pressure, one could get the toy to drive straight.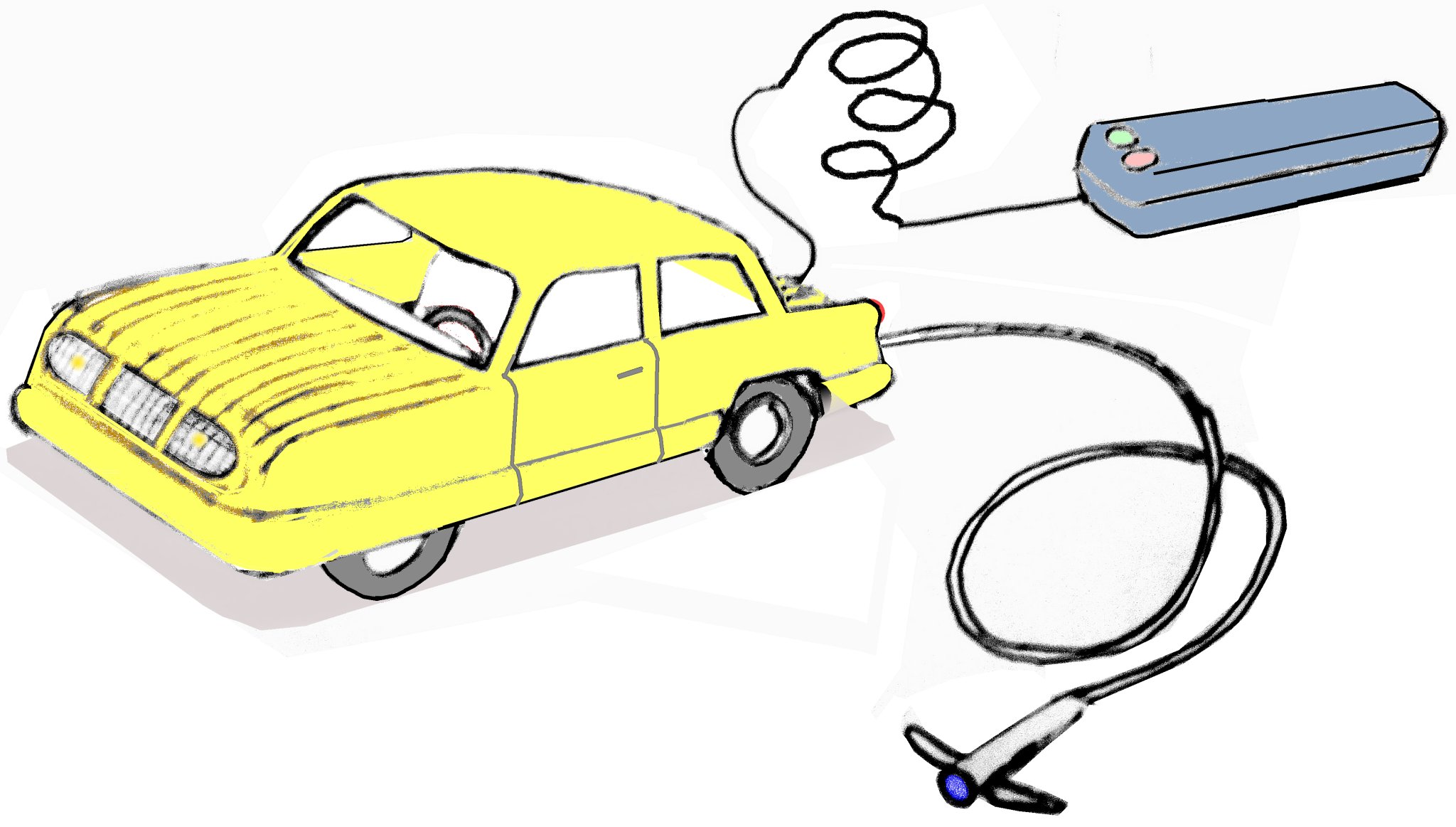 Hand sketched as original photographs unavailable.
My father sent this from Poland for my 4th birthday in Dec. 1961.
Second and later toy cars
Among the toy cars my father brought me, from Europe, were a pair of clockwork snap-kit toy cars from West Germany. A Mercedes 300SL and a BMW 501 Barockengel.
The brand of toy manufacturer was Auto-DUX of West Germany.
The snap-kit contained 5-inch long tin-plate chasses with a diecast aluminium Mercedes 300SL and a brown plastic BMW 501 Barockengel.
The kit contained one clockwork (key-wound) motor and a brake lever meant to stick out the trunk lid. The motor was interchangeable with both chasses.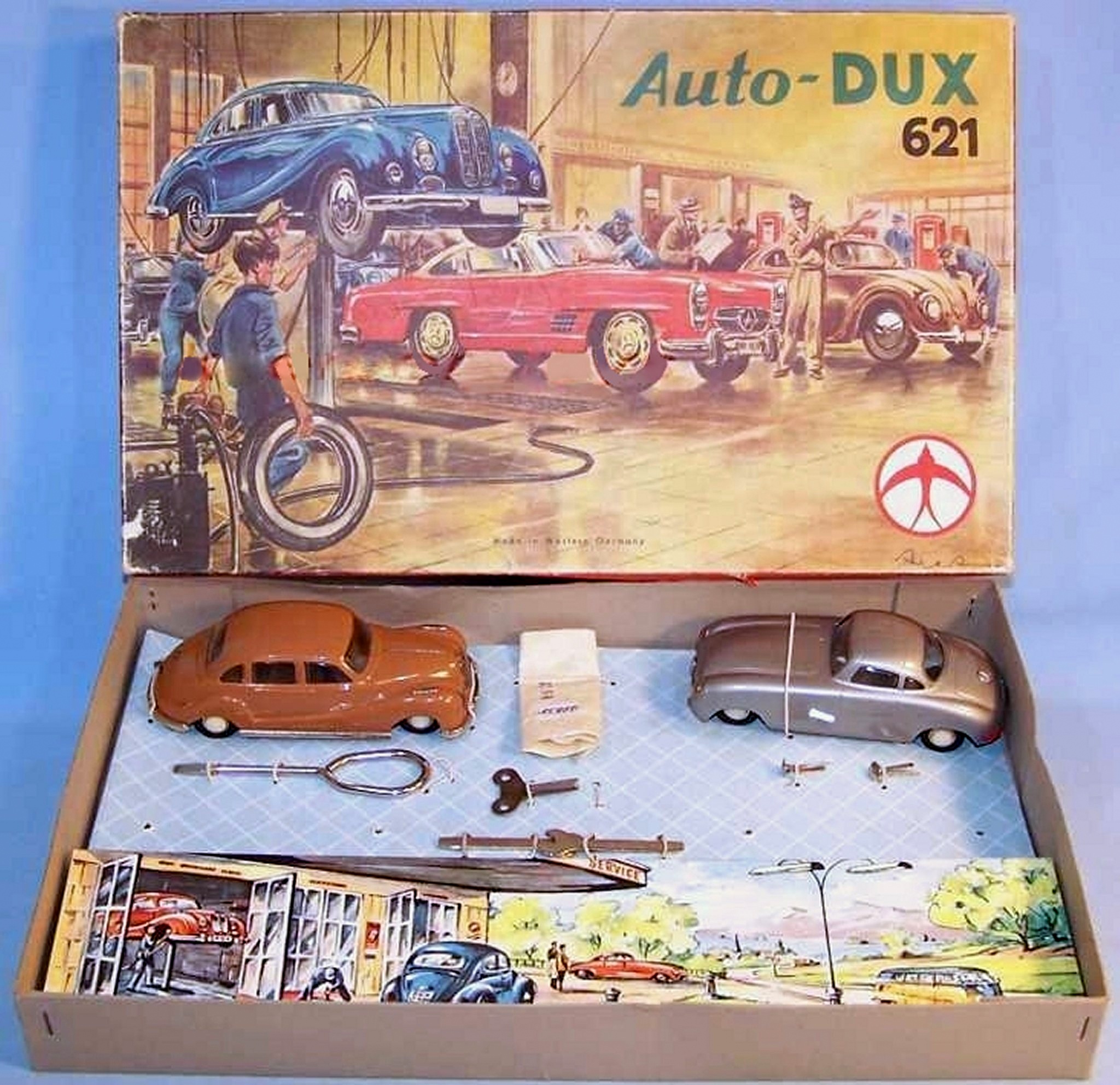 The snap-kit contained 5-inch long tin-plate chasses with a diecast aluminium Mercedes 300SL and a brown plastic BMW 501 Barockengel. The kit contained one clockwork (key-wound) motor and a brake lever meant to stick out the trunk lid. The motor was interchangeable with both chasses.
The real BMW 501 had an inline 1971 cc six-cylinder OHV motor, driving the rear axle through a 4-sp. gearbox.
Coming back to my toys, a couple of memories are vivid.
The cars had white solid polyethylene wheels with real rubber tires and chrome hubcaps.
I remember biting the wheels across the diameter (as some small children will) and regretting when they became oval, causing the BMW to rock as it rolled along bumpily.


Could never straighten the wheel after that. I preserved the cars, including the Mercedes with the oval wheels for at least a decade later.
The cars inspired countless repeated attempts to sketch them. I got better and better with every attempt.

The 1959 Chevrolet Impala
A general store that also kept toys stood where the Chembur Medical Stores stands today, behind the police chowky at Chembur railway station.
The year was 1964. I was about six years old.
On a shopping trip with my mother, I begged her for a model car seen in the show case.
It was an Aspen-Green, 1959 Chevrolet Impala 1:43 scale die-cast scale model -- my first toy car that looked like a downscaled real car.
It had an exquisitely molded cream PVC interior and steering wheel and was my pride and joy as a kid.
The toy 1959 Chevrolet Impala was made by a company named Morgan Milton Pvt. Ltd. of Park St., Calcutta.
They had a brand of 1:43 scale die-cast scale models called, "Mini Auto Cars".
The unique shape of the 1959 Impala inspired me to use it as a model to make a lot of sketches -- they drew oohs and aahs from my drawing teachers at school.
In suburban Bombay of the early 1960s, there were several examples of the '59 Impala to be seen.
Chembur, where I lived was the capital of the Hindi film industry, predating Pali Hill and Lokhandwala complex -- it wasn't called Bollywood back then.
Coming back to the Impala, the stylistic cues that drew my artistic attention were:
the toothy grille
the two front facing vents above the headlamps with parking lights in the distal corners
the flat roof hardtop style with the awesome wrap-around panoramic rear window and compound-curve panoramic windscreen
the large V-shape horizontal tailfins
the "cat eye" taillights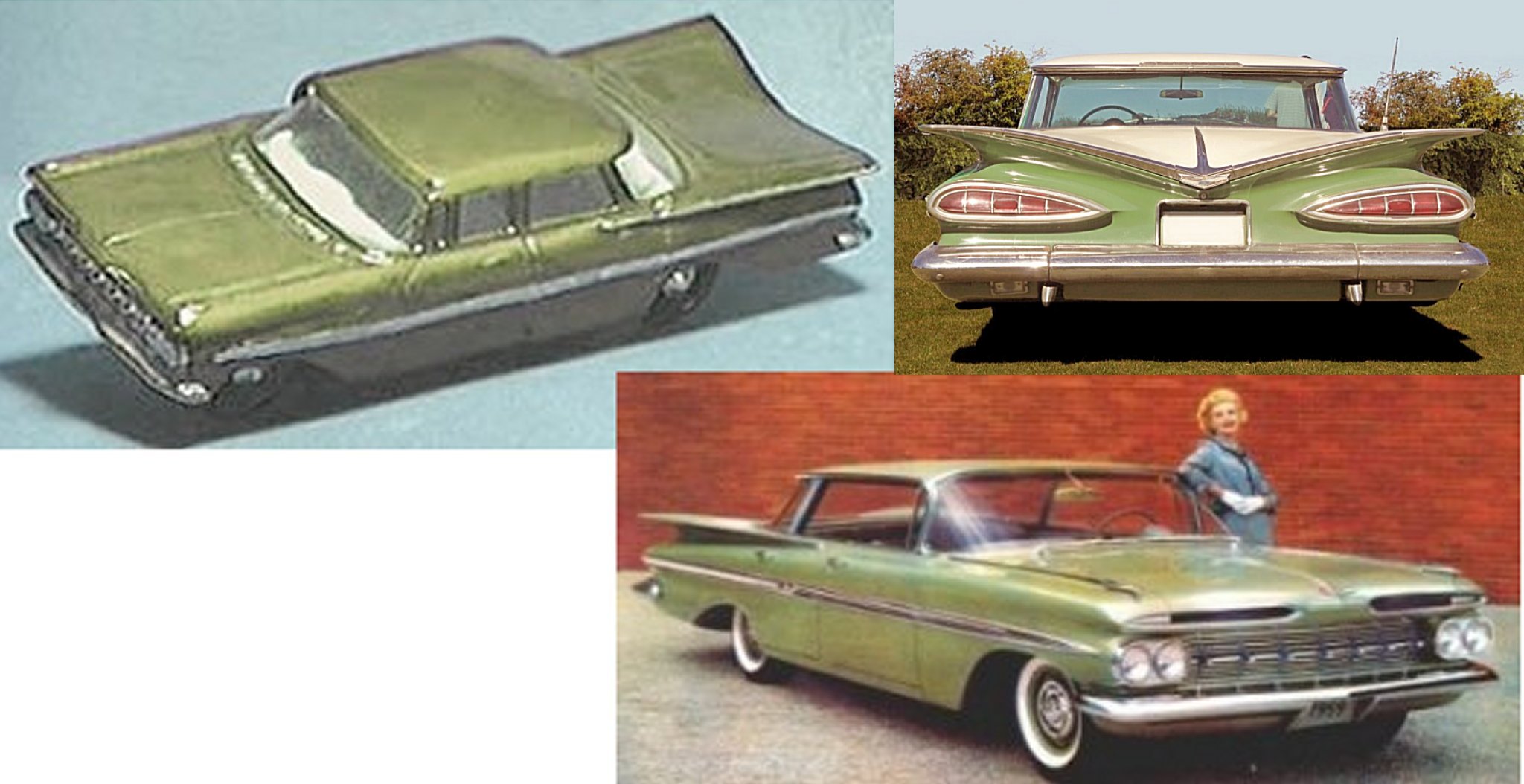 Here's a pic of an Aspen Green 1959 Impala 1:43 scale model by Milton, Calcutta.
And a pic of a real 1959 Chevrolet Impala.
After the 1959 Chevrolet Impala, I added to my 1:43 scale model collection,
a 1957 Studebaker Golden Hawk 2-Door Hardtop, a 1957 Jaguar Mk1 2.4, a Commer ¾ ton Military Ambulance, a 1964 Volkswagen 1500, a 1957 Mercedes Benz 220SE, a 1963 Plymouth Sport Fury convertible and a 1967 Triumph Vitesse.
My Soviet Tractor Set
From the Soviet Union, my father got me a metal construction set to build one of two types of tractor -- a front engine tractor and a rear engine tractor.
The set had re-usable metal strips, plates, angle girders, wheels, axles, gears and nuts and bolts to connect the pieces.
It used Imperial ½ inch perforation spacing and 5/32 inch whitworth thread for nuts, all threaded rods and bolts.
Both types of tractor, when completed were 8" tall and over a foot long. The engine was a blue painted contraption with air-cooling louvers built up with multiple nickel-plated discs on a long machine-screw, separated by metal spacer rings.
All the steel girders and plates were powder-coated red. The kit had a plastic seat and a plastic steering wheel. The rear wheels had to be assembled by bolting the two halves of the rim to the central stamped disc.
This kit had gear wheels to implement the steering mechanism. The steering wheel was fixed to a near vertical rod that ended in a cogged gear wheel. That engaged the cogs in a vertical gear wheel which drove a horizontal rod. This turned a pitman arm that moved a steering tie rod left or right. The tie rod was made of heavy wire and operated the steering cranks on the front wheels.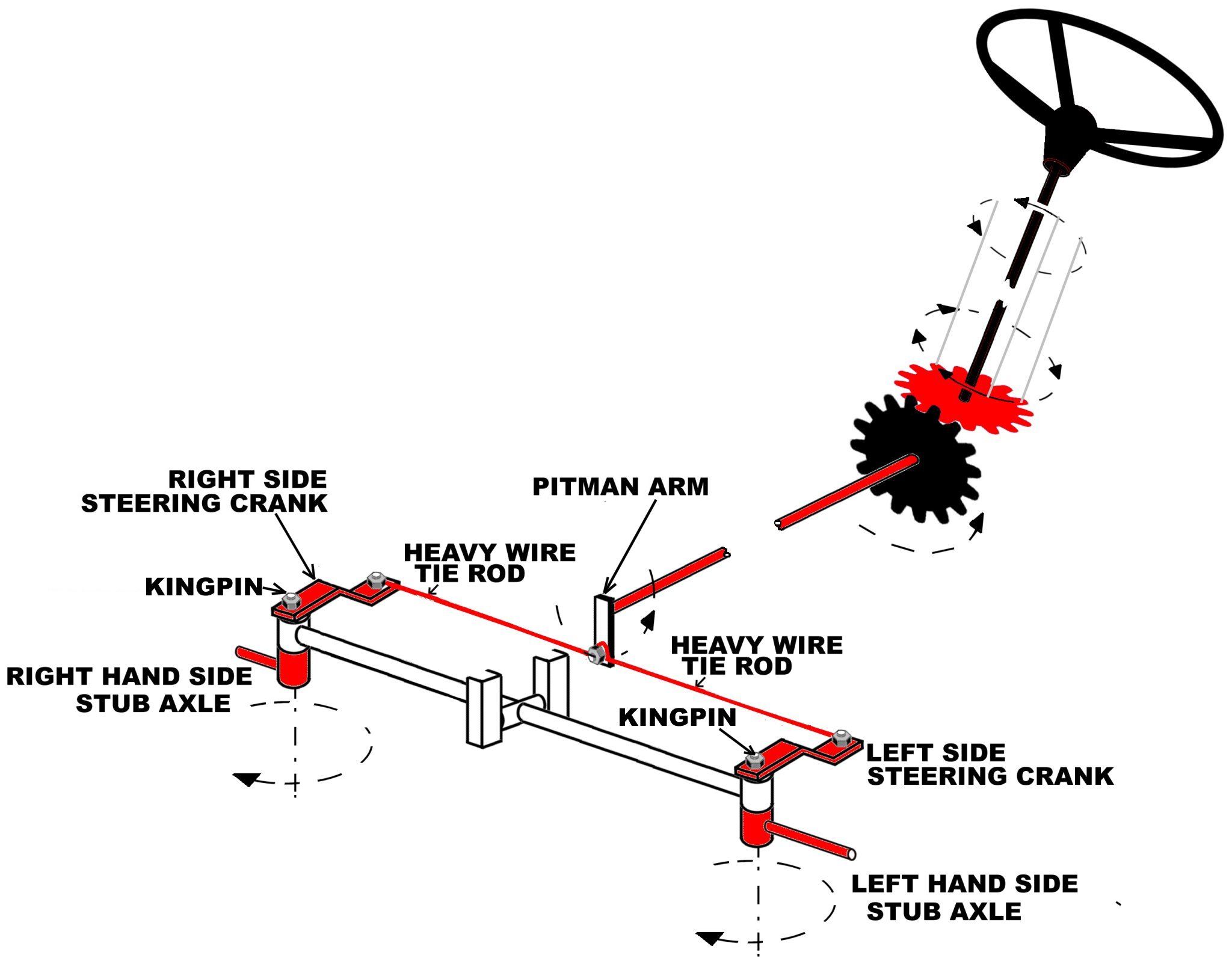 Diagrammatic representation of steering mechanism in the Soviet tractor.
Diagram sketched as original photographs unavailable or inadequately illustrative.
Engineering artifacts I was seeing for the first time, became internalized concepts, and part of my knowledge set -- a repertoire to be deployed in future.
Box spanner
Right angle screw driver
The idea that plates can be bolted together to composite a larger 3D object
Quality, looks, perfect fit and finish (even odor) of Soviet powder-coated steel
Getting wheels to roll along axles, with sliding friction minimized by using mineral machine oil for lubrication
Headless slotted grub screws that sat flush, encased in the steel sleeve, they fastened to a shaft
The idea of a check nut -- to ensure that an installed nut, will stay in place and not shake/vibrate itself loose
A lot of engineering learned and internalized at the age of eight.
This metal construction kit, also taught me early in life, the steering angles – caster, camber and toe angle, the disadvantages of toe-out and advantages of toe-in.
It also clarified the role of positive caster angle, which kept the tractor going straight.
Of course too much positive caster would cause hard steering and wheel shimmy, while negative caster would cause the vehicle to wander and weave.
Another lesson learned was that unequal caster would cause the vehicle to pull toward the side of more negative caster.
A steering geometry lesson, learned on this constructor set was as follows:
If the tie-rod length was reduced, the steering cranks could be angled towards the centerline of the tractor.
This would ensure that when the front wheels steered, the inside front wheel turned through a greater angle than the outside front wheel.
This would prevent side-slip of the front tires, when steering around a curve.
Later I would come to to know this as the Ackermann steering angle.
What a blessing it was to learn all this early, as a school kid.
"Learning through reflection on doing", as opposed to the rote or didactic learning in school.
Lesney Matchbox
Around when Lal Bahadur Shastri was prime minister, I was in the 3rd grade in elementary school (acad. year: 1965-66). That was when my schoolmates and I, were overwhelmed by a new craze to possess and play with minature scale-model toy cars. A brand we grew to love was called Matchbox Toys, by Lesney, England. These model cars were made to a 1:64 scale or a third smaller than the 1:43 Impala. The cardboard boxes they came in were roughly the size of a matchbox. The brand has since been around since 1953.

My childhood friends, Ashley Menzies(who now lives in Chaguanas, Trinidad & Tobago) and Abhay Vyas(who now lives on the US E. Coast) were mega collectors of Lesney Matchbox toys. Ashley had a whole wall-sized glass showcase full of them.
My classmates, Rajesh Sikka and Ashok Kanagat, were also fond of collecting Lesney Matchbox die-cast 1:64 scale model cars. Wrote about these cars here :


Military Aircraft
Circa. 1967, as nine year olds, my classmates and I discovered, supersonic aircraft and Commando comics. That is described separately here: