1940 Großer Mercedes-Benz 770 Series II (W150) Offener Tourenwagen
On Sun. 5th August 1990, at the the Canadian War Museum in Ottawa, Canada, on the banks of the rivière des Outaouais,
I had occasion to see one of Adolf Hitler's 1940 Grosser Mercedes-Benz 770K W150 bullet-proof cabriolets.
It was the 45th anniversary of the dropping of the atomic Bomb, Big-boy on Hiroshima, Japan. It was already Mon. 6th Aug. 1990 in Japan.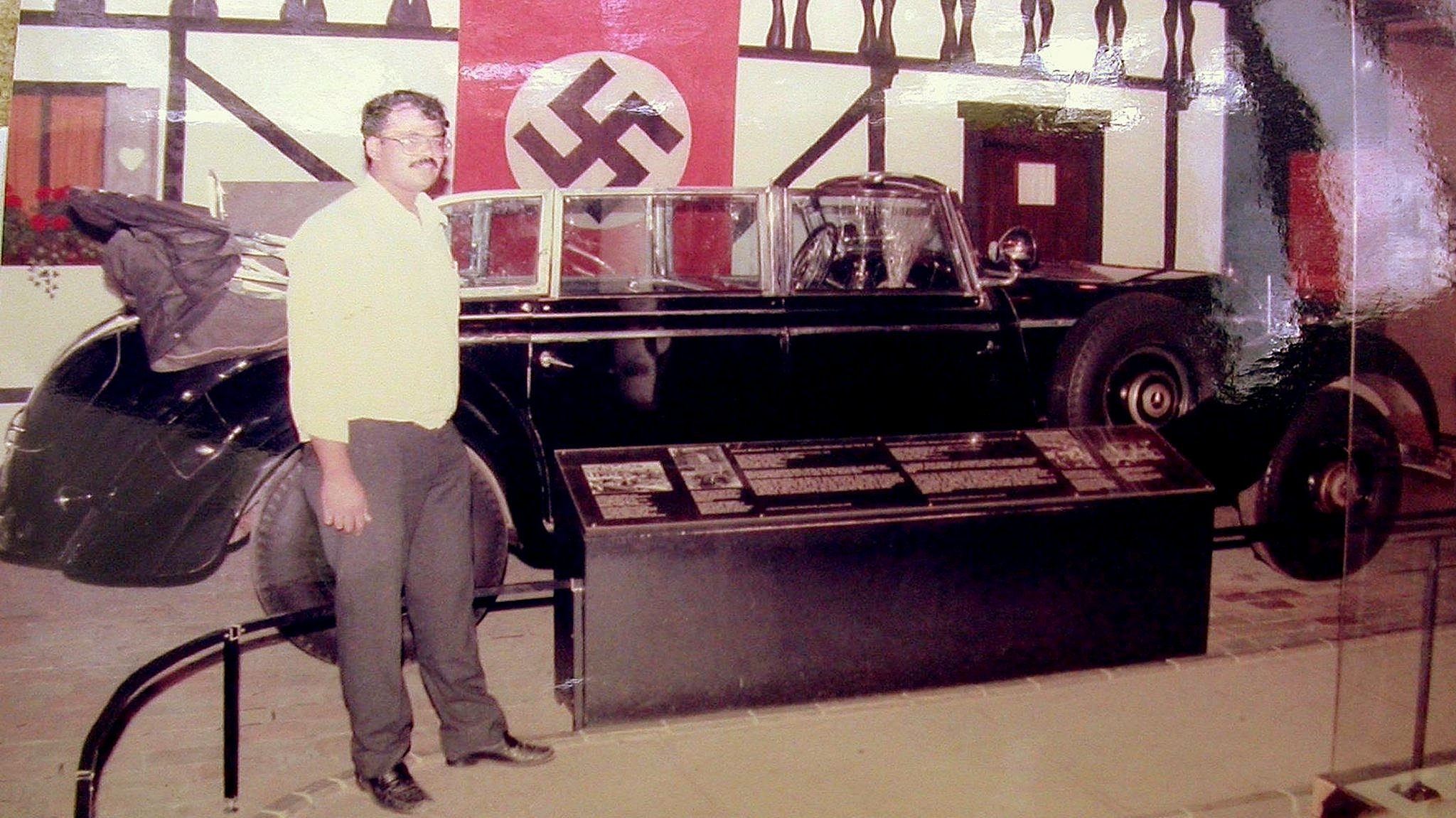 Me at 35, against a mock Bavarian streetscape and an gargantuan Mercedes cabriolet in the Canadian war museum.
Regrettably, you cannot take photos like this any more, because the museum does not allow people this close to the car any more.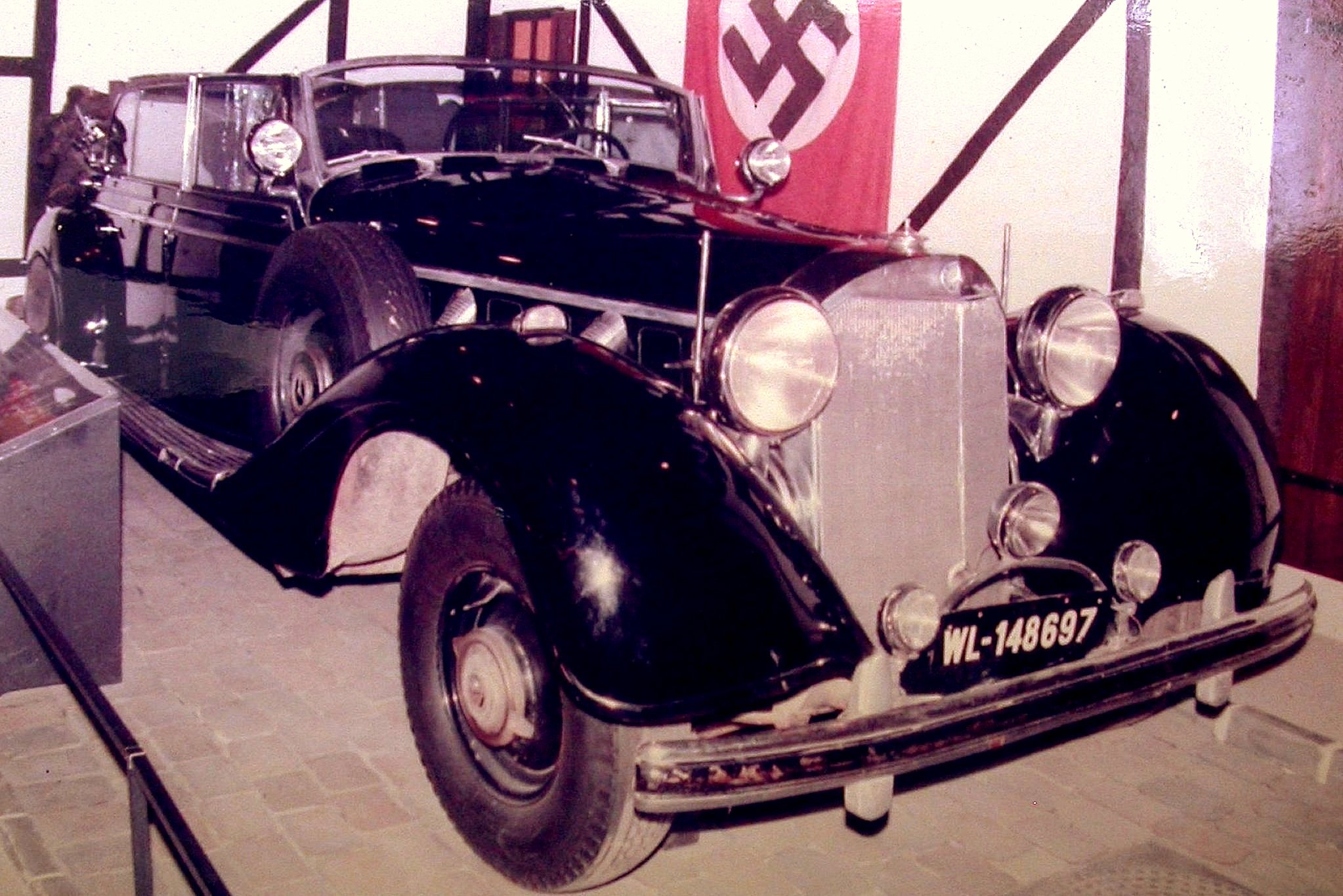 On the second floor of the museum
The car sits in the the Canadian War Museum's Second Floor Gallery in front of a mock Bavarian Streetscape.
Today, this car from the Third Reich is probably worth over $20,000,000.
Daimler-Benz produced a total of 88 of these cars between 1938 and 1943. A select few of these were sold to individuals.
The vast majority was for the Nazi government.
Some were allocated for the use of head of state, ministers and other authorities.
Specifications
The limousine's supercharged 7.7-litre straight eight engine put out 230bhp@3200 rpm to a five-speed manual gearbox.
It has a 197 litre petrol tank and this gargantuan supposedly returns 3.7 km/litre.
The chassis has oval section tubes. Suspension has coil springs all around.
The car is over 6 metres long and 2 metres wide. It weighs 4.1 tons and can top 170 km/h.
The flooring is made of 6 mm thick steel.
The doors and windows are bulletproof.
It has a 6mm-thick retractable armor plate which can be raised behind the rear passenger seat to stop light machine gunfire.
Other sheet metal parts are of 3 mm thick (11 gauge) specially hardened steel for resisting small mine explosions and light machine gunfire.
The windows are made of 4 cm thick bulletproof glass.
The car has three pistol compartments -- in the dashboard and two compartments in the rear.
An armor plate could be raised behind the rear passenger seat to stop light machine gunfire.
Battle scars
The cabriolet's front passenger window has been hit and crazed by Allied fighter aircraft bullets. I kid you not, I cut my finger touching the broken glass shards. There are also seven original bullet holes from 1945.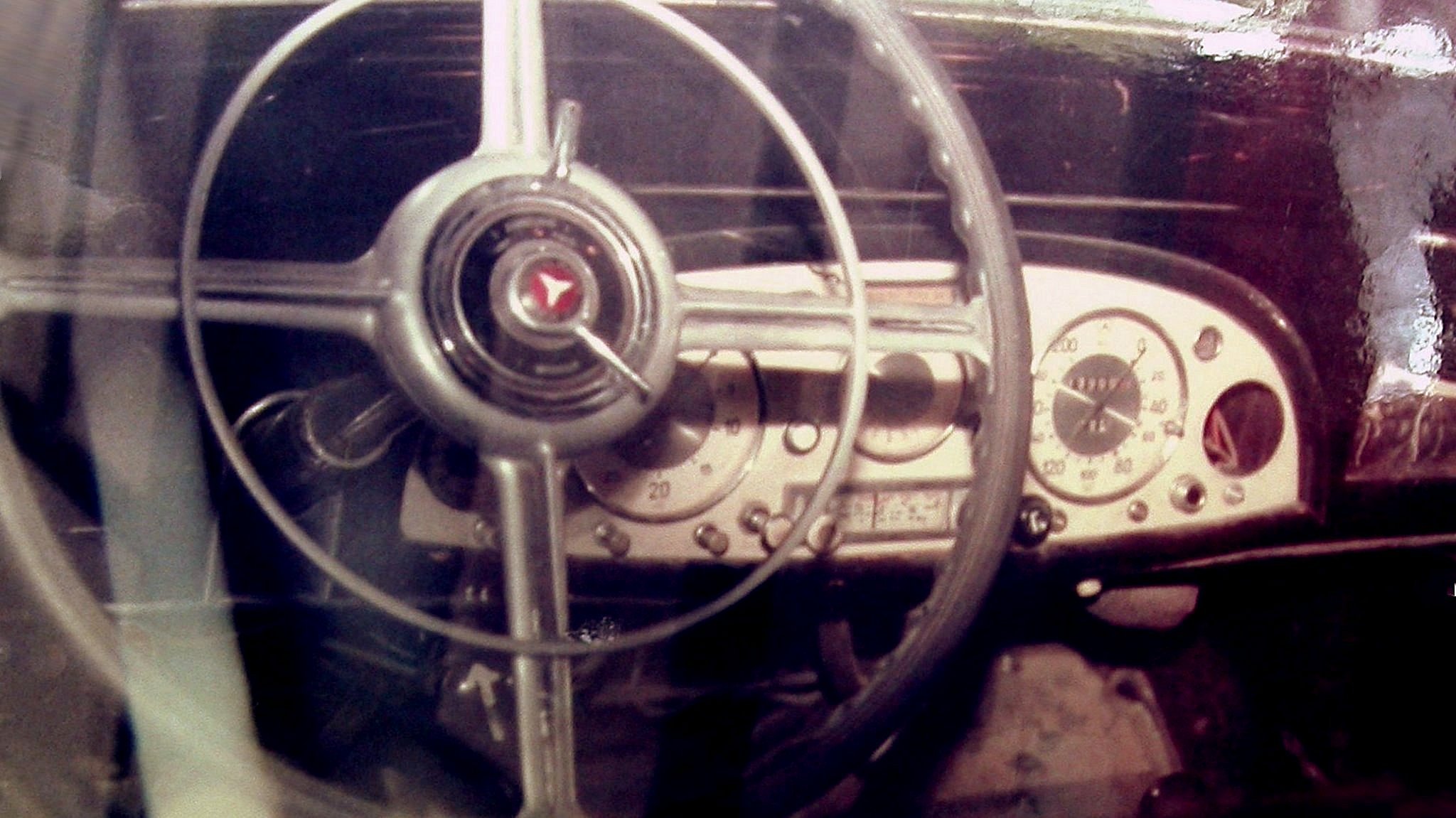 Imagine Hitler's personal driver: Obersturmbannführer Erich Kempka, with his muscular hands on this big four spoke steering wheel.
Discovery
In April 1945, a US GI, Sgt. T. Joe Azara of the 20th Armored Division discovered the car on a flatbed rail-wagon in a railway siding in the village of Laufen, DE, 18 km. N. of Salzburg, AT by rail.
At the close of World War Two, the US army drove this car around Germany before shipping it via Boston in 1946.
It remained in storage until 1956. Mr. H. J. O'Connell, a Montreal collector picked it up at an army auction in Maryland for $2,725 and spent another $5,000 extensively restoring it in Toronto.
A Quebec city businessman, Mr. Claude Pratte bought if from him and gifted it to the Ottawa War Museum in May 1970, mistaking it for the staff car of Hermann Göring, commander of the Luftwaffe.
Research
The Canadian War Museum's librarian Ludwig Kosche performed a thorough and meticulous study, which indisputably transformed the significance of the artifact.
He confirmed the factory serial number: 429334 of Hitler's car and its original military license place: 1Av148697, with the manufacturers, who revealed conclusively that the car had belonged to Hitler.
The German Ministry of Defence in Bonn, approached Daimler-Benz, Stuttgart.
The manufacturer confirmed that the car in question had been delivered to the adjutancy of Adolf Hitler on Mon. 8th July 1940.
The car had been sent to Daimler-Benz for repairs on Mon. 19th April, 1943 and was returned to Adolf Hitler's adjutancy again on Wed. 15th September 1943.
Ludwig Kosche published his work, in the magazine After the Battle in 1982.
Hitler donated many of his Mercedes limousines to the heads of state of other nations with whom Germany wanted to strengthen relations. He himself, had seven such Mercedes limousines.
One more is also in the Auto & Technik Museum Sinsheim, Germany.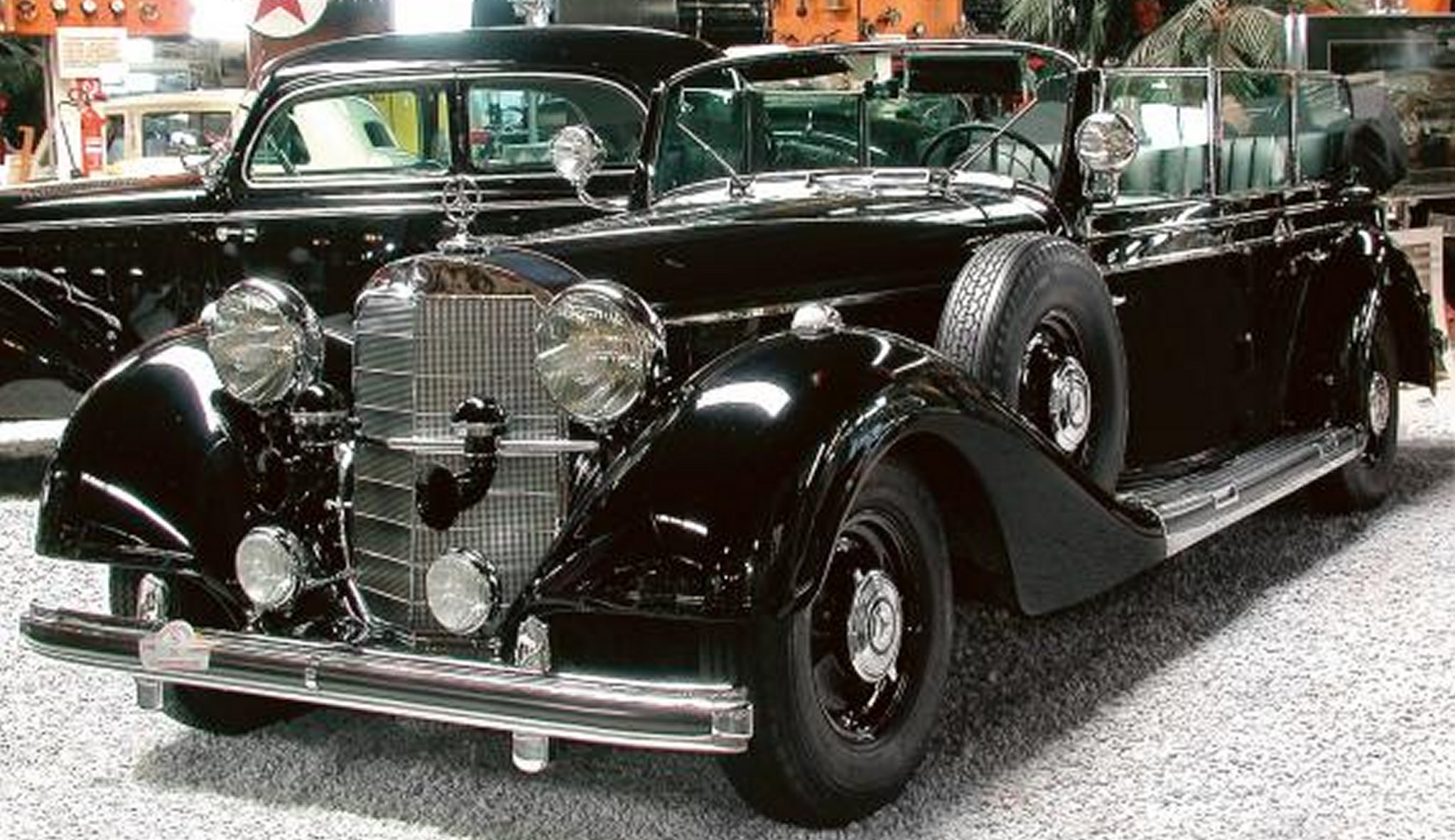 At the Auto & Technik Museum Sinsheim, Germany
At the Auto & Technik Museum Sinsheim, Germany