Boeing 377 Stratocruiser
The Boeing 377 Stratocruiser was a post World War II airliner, derived from the Boeing B-29 Superfortress bomber. The Stratocruiser first flew on 8th July 1947.
A total of 55 Stratocruisers were built for airline use.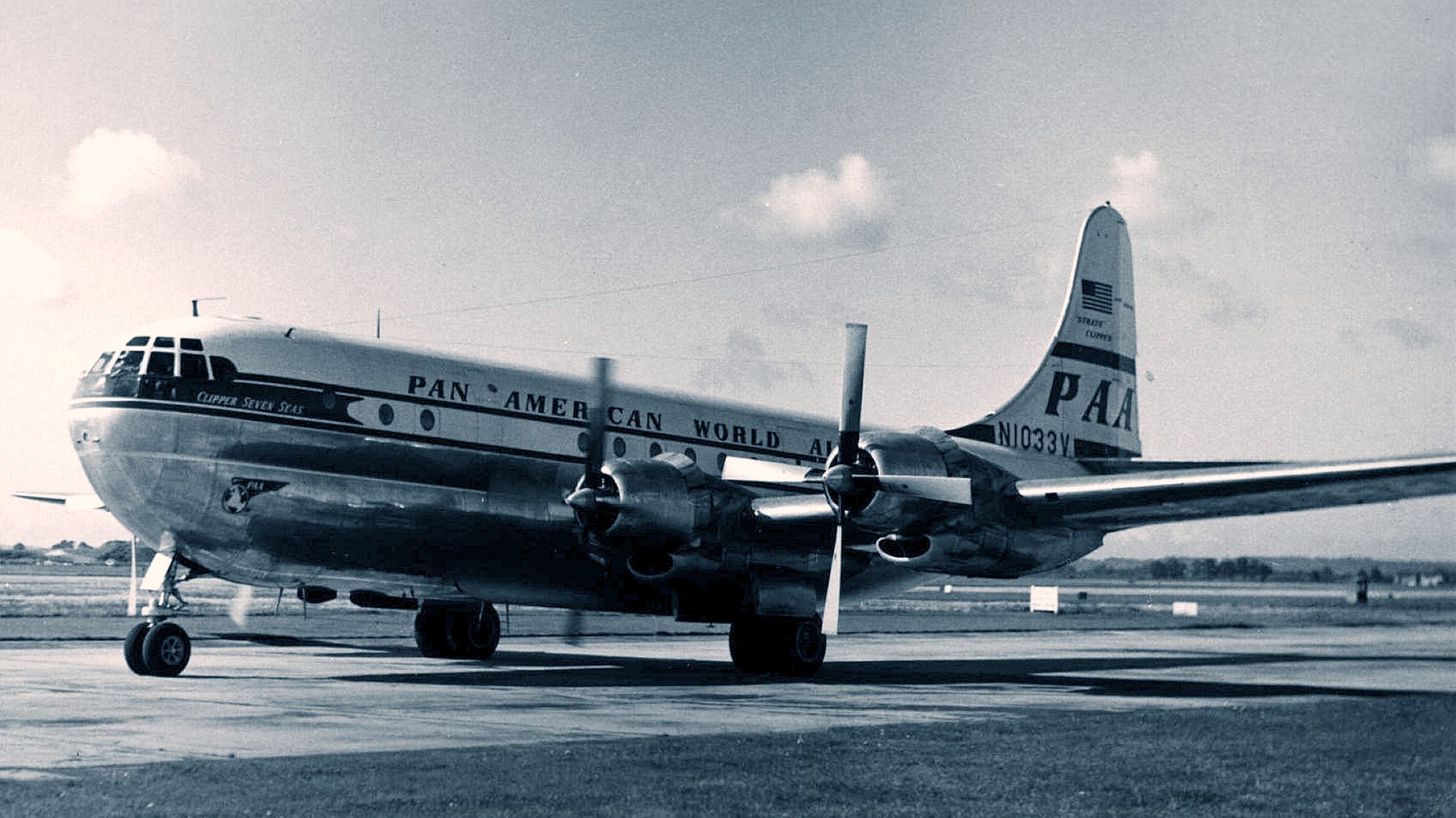 Double-deck
The Boeing 377 Stratocruiser had two pressurized passenger decks.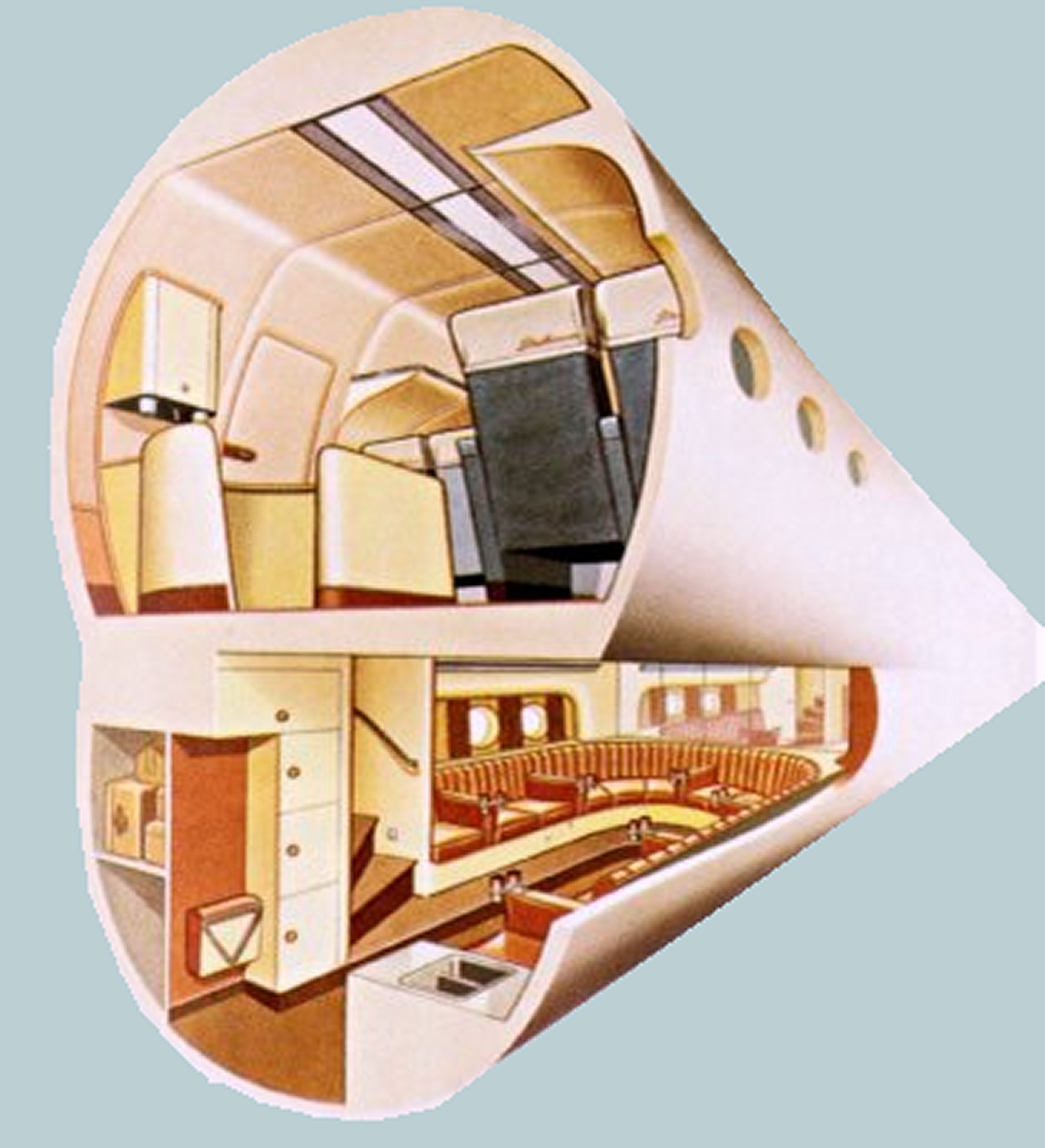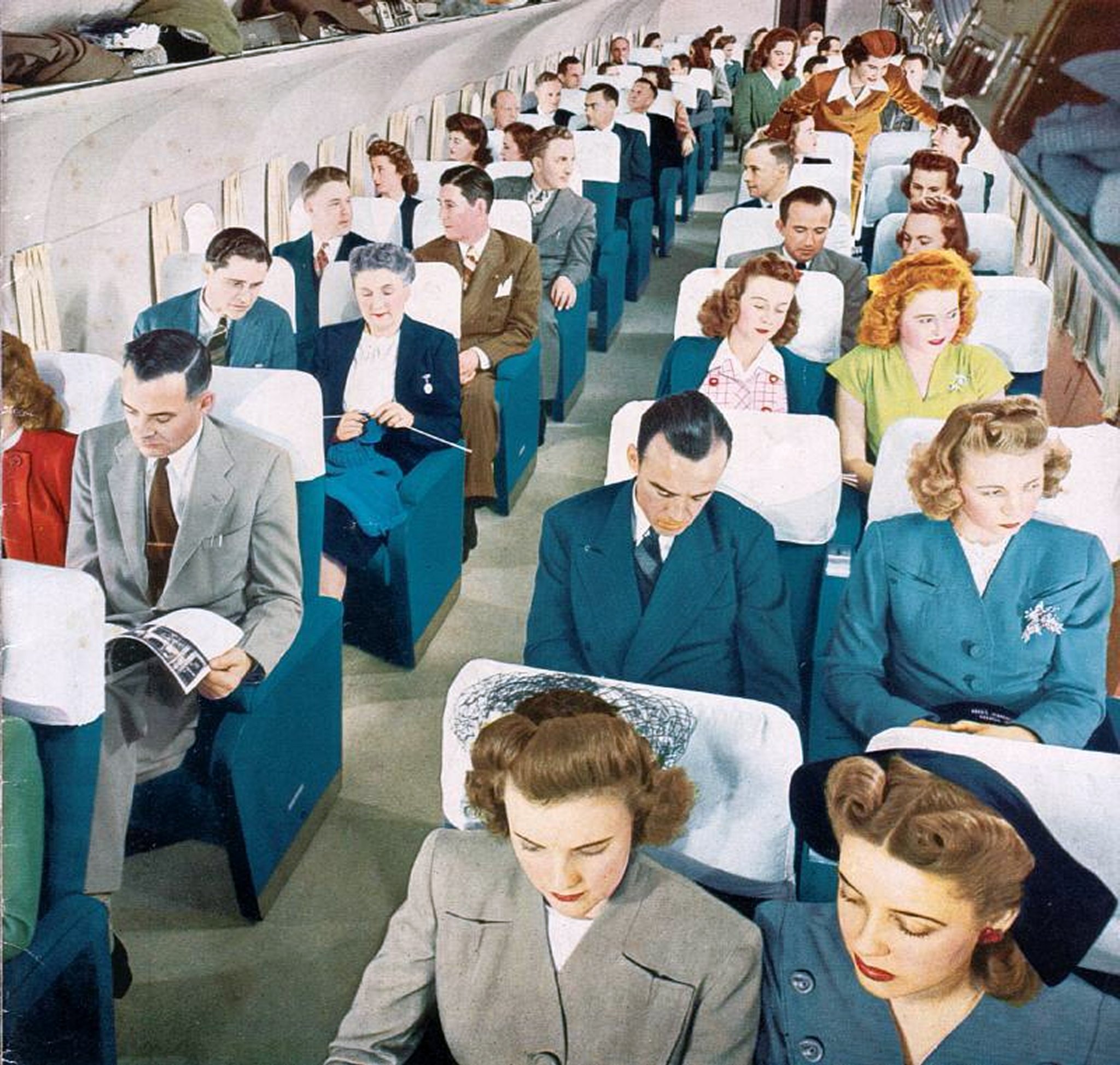 Pan Am's upper deck had day-seats and an 18-berth sleeping area.
United Airlines called their Stratocruiser, the Mainliner. That version of Stratocruiser offered six berths for night flights -- four in the forward luxury compartment and two in the private stateroom.
In the forward compartment, four seats made into a lower berth while the upper berth let down from the curved side-wall. Mattresses with all bedding were "pre-made" and carried in the upper berth.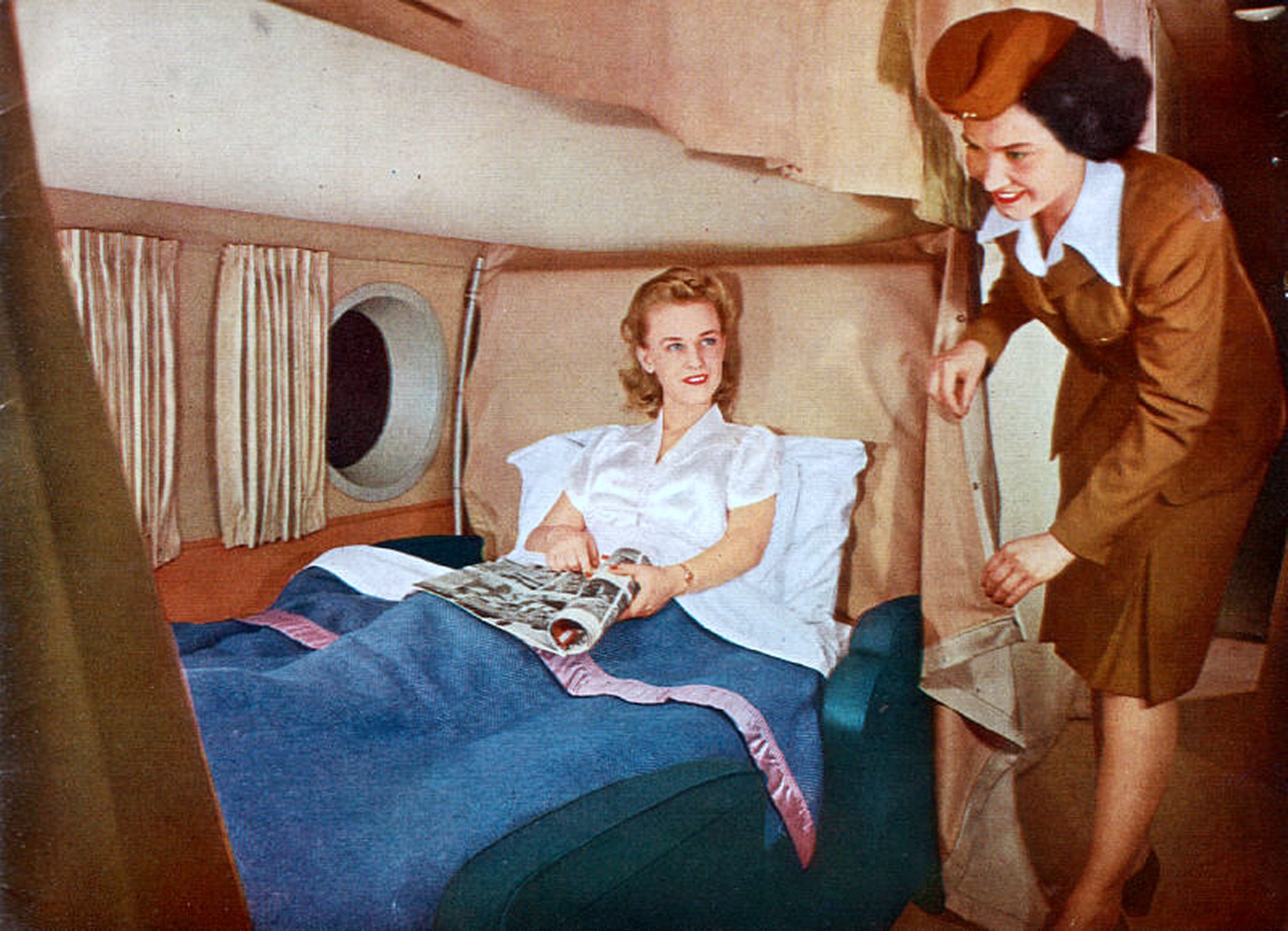 In less than two minutes the stewardess could come up with two really comfortable beds.
Berths in the forward compartment were wide enough for double occupancy.
Each berth had reading lights, coat hangers, shelves for night cases and airconditioning vents.
The main, upper deck had seven sections
Flight cabin
Forward passenger section with 8 seats
Two dressing rooms
Forward main cabin
Galley
Rear main cabin
Stateroom (one airline called it the bridal suite). Sleeping berths in the stateroom were made up from long divan lounges to yield hotel-room privacy!
.
In the center of the airplane, on the left side, was the main passenger loading door. Just aft of it was the circular stairway to the lower deck lounge.
From the upper deck passenger cabin, you could climb down a spiral salon staircase to a cozy and luxurious lower-deck cocktail lounge and snack bar (see three round windows at the wing level).
Lounge
The lounge could seat 12 to 14 passengers in a conversational horseshoe arrangement.
Under the stairs was a service bar. The lounge had soft, indirect lighting, full end-mirror, and was unusual quiet.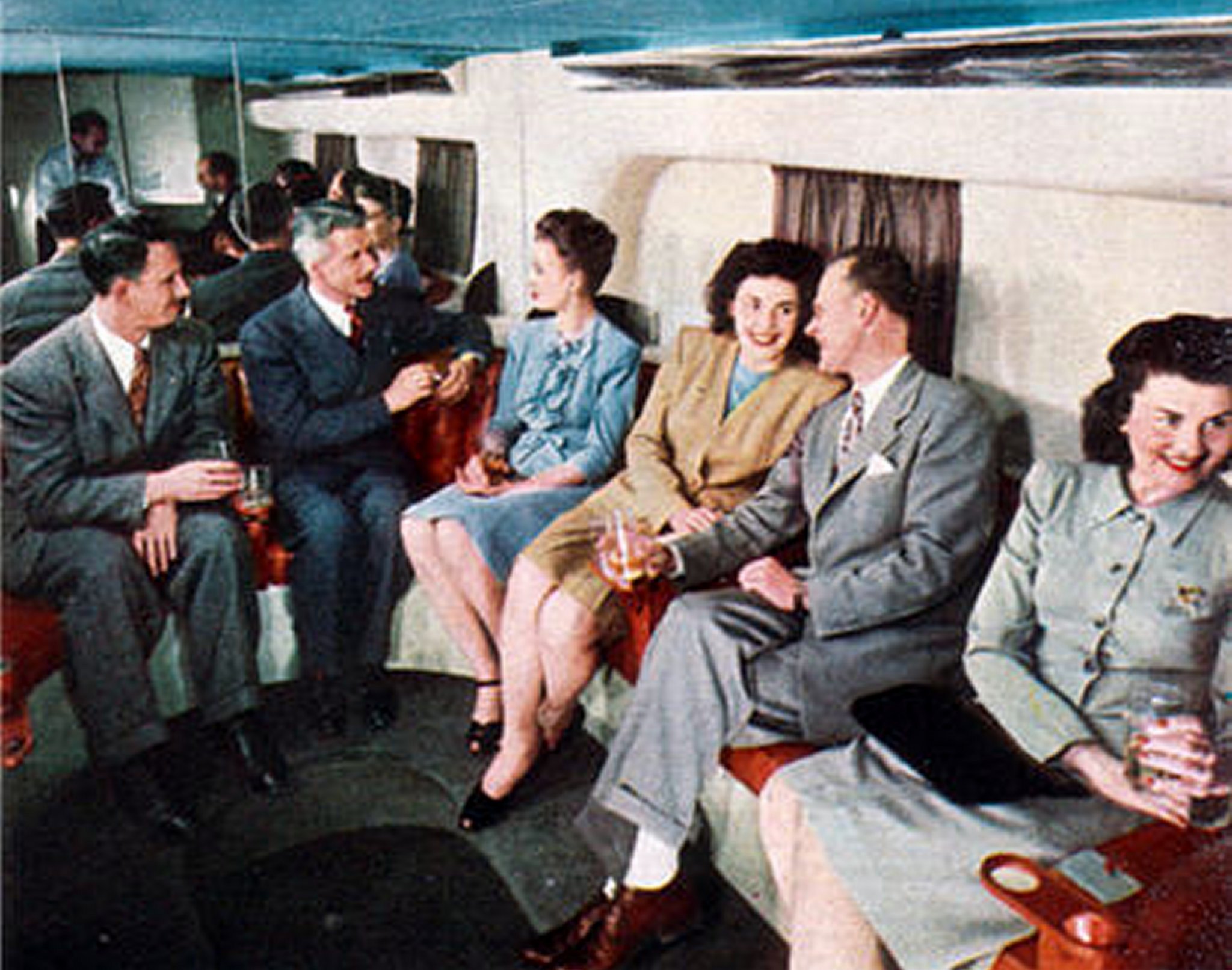 Airlines never sold lounge seats, but kept them open for enjoyment by all passengers.
Cockpit
The Stratocruiser's cockpit afforded an excellent outside view and housed some 600 controls and indicators. The cockpit crew consisted of pilot, co-pilot, flight engineer, navigator and radio operator.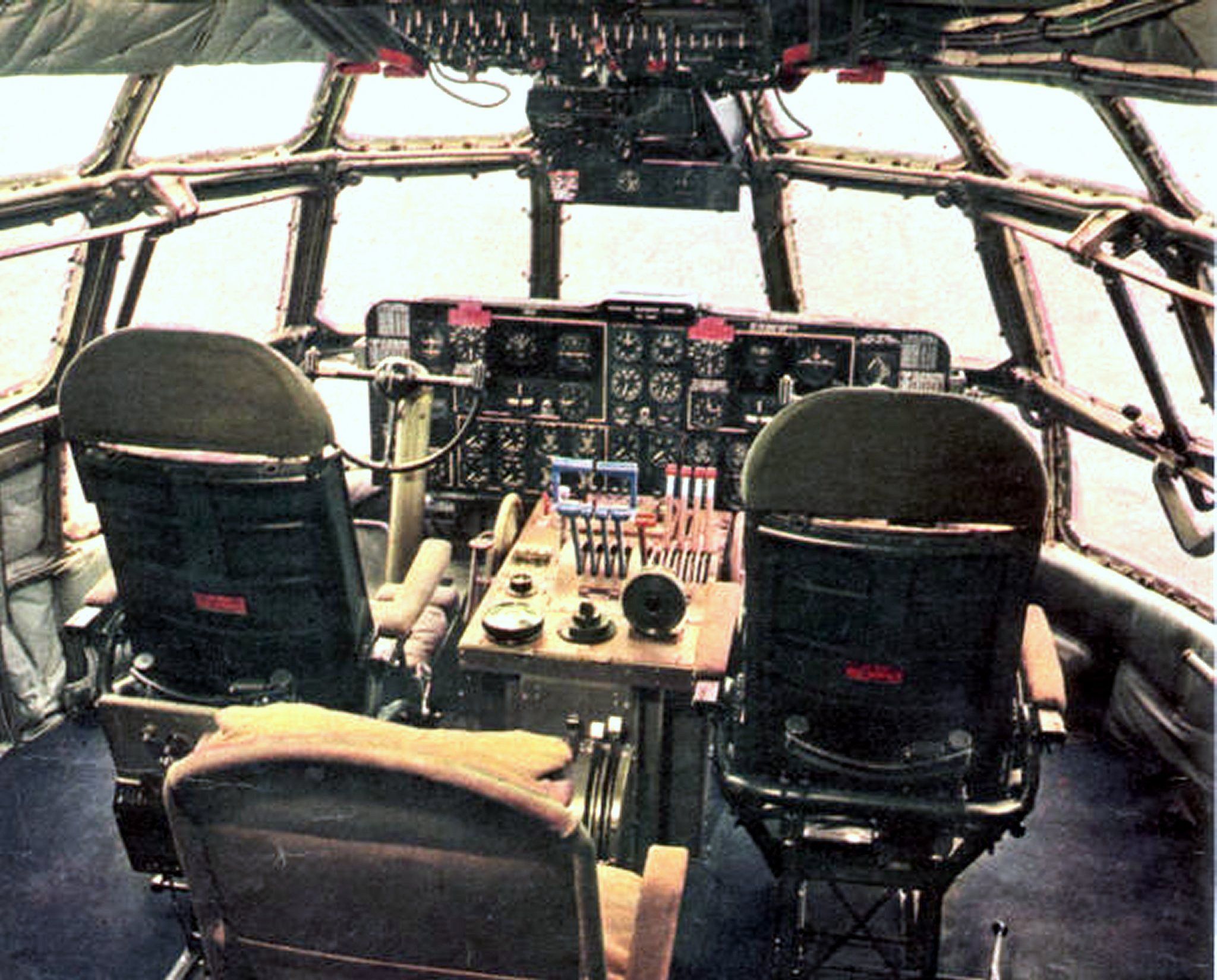 Engines
Engines were four Pratt & Whitney R-4360-B6 Wasp Major 28-cylinder 71,489 cc piston engines developing 3,500 hp each, and driving four-bladed propellers.
Each engine was supercharged, air-cooled, had four-rows of 7 radial cylinders and weighed 1.76 tons dry. Each engine had 56 manually-adjustable valves and 56 spark plugs.
Each row of pistons was slightly offset from the previous, to facilitate efficient aircooling of the successive rows of cylinders.
A mechanical supercharger geared at 6.374:1 ratio to engine speed provided forced induction.
The propeller was geared at 0.375:1 to prevent the tips from reaching inefficient supersonic speeds.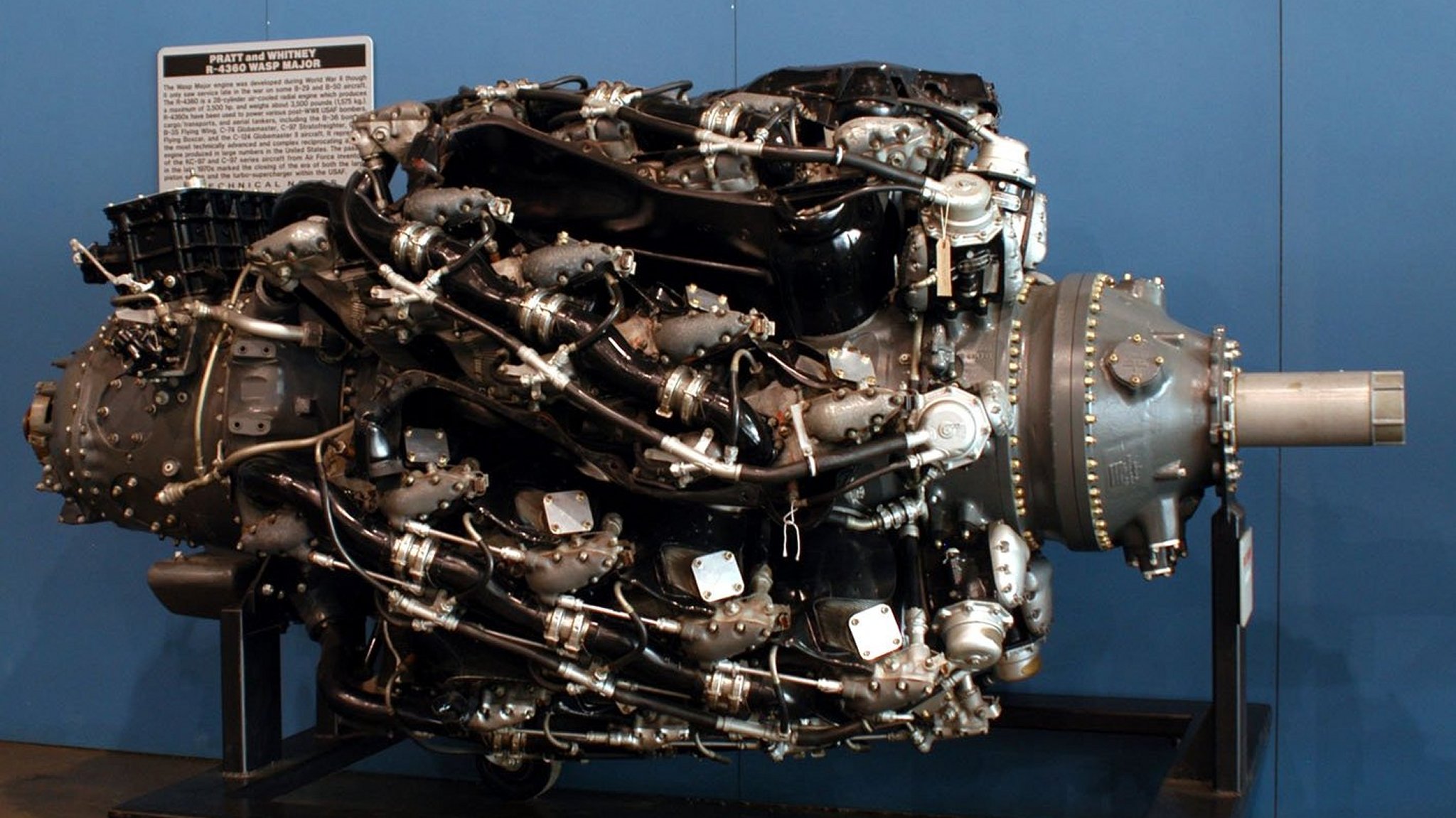 The Wasp Major was reliable in flight but maintenance intensive.
Improper starting technique could foul all 56 spark plugs, which would require hours to clean or replace.
Typical of most aero piston engines of the era, the Wasp Major needed overhauls after every 600 hours of service.
Unusual mechanical features
The three-storey 38' 3" tall vertical tail fin of the Stratocruiser could be folded down to one side to let the aircraft into a hangar.
It was hinged it at the body line and folded down to lie flat on the horizontal stabilizer reducing overall height to 26' 10".
Folding did not require disconnecting of controls. For safety, this could not be done while airborne -- the operation was manual and could be done on the ground only.
The fuselage had built-in stairs to permit emplaning and deplaning without airport provided stairs.
One led to the forward cargo compartment. Another door aft of the cargo hold admitted passengers into the lower-deck lounge and the spiral staircase to the cabin above.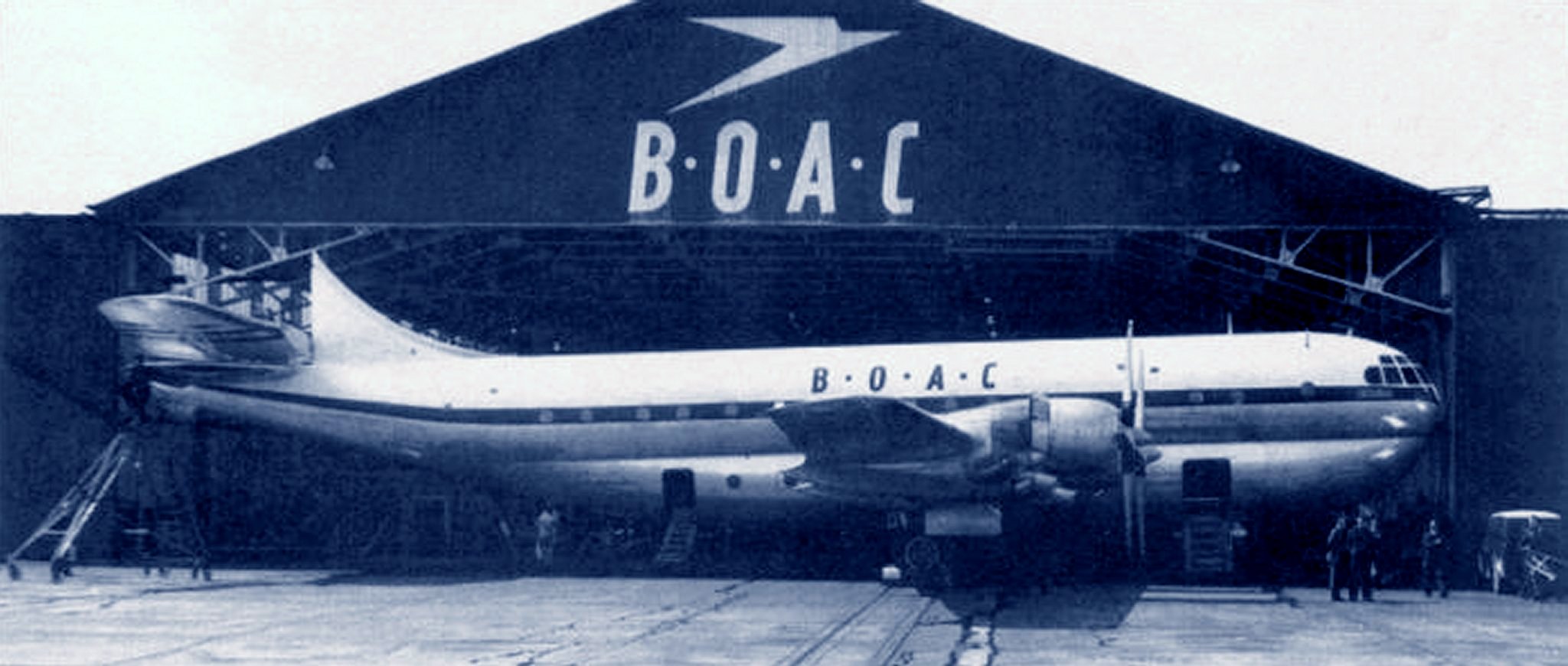 Crossing the van Wyck expressway at Idlewild
Pan Am's 1949 Boeing 377 model 10-26 Stratocruiser, with regn. No. N1042V (constr. no. 15942).
It was named Clipper Morning Star (and later renamed Clipper Polynesia). It had a crew of 5 in the cockpit and 3 in the passenger cabin. The airliner could carry 75 passengers and fly New York to London in 12 hours at 301 mph, attaining a ceiling of 32,000 feet.
The aircraft was retired in 1960.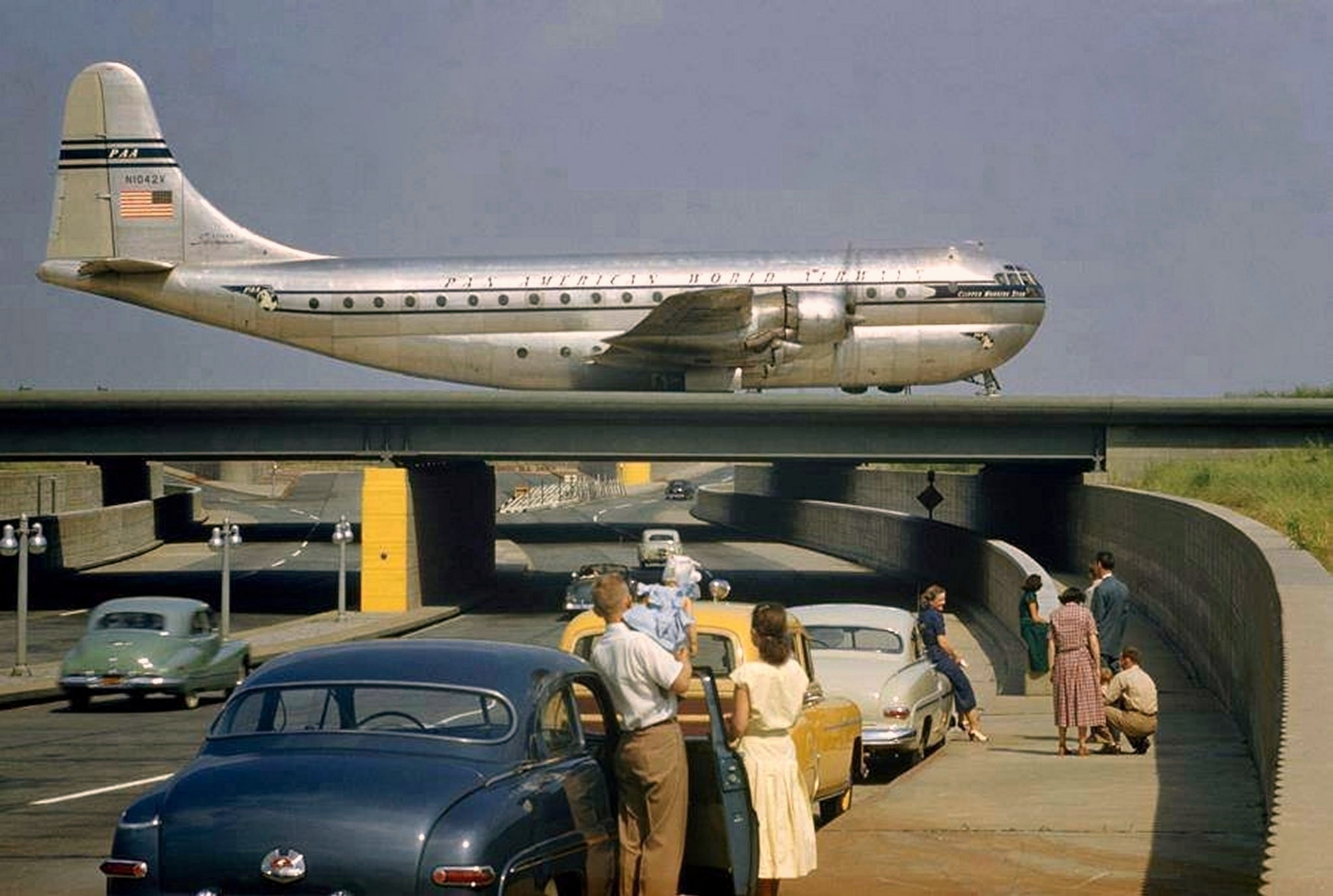 This picture was taken circa. 1951.
The aircraft is taxiing over the eastbound route 678 Van Wyck Expressway at Anderson Field New York International, then commonly known as "Idlewild" airport.
It is headed for runway 13R/31L for take off.
Anderson Field airport would be renamed JFK thirteen years later, in Dec. 1963.
Three cars have pulled over to have a look at the aircraft. In front is a beige 1950 Mercury Monterey coupe on which the brunette in the navy dress is leaning.
Behind it is a yellow 1950 Chevrolet Styleline woodie wagon
and the car behind it is a metallic grey 1950 Mercury Monterey coupe. The passenger door is open and a couple is looking at the aircraft. The man is holding his baby daughter aloft, so she can get a look too.