Lockheed Connies and Super Connies
One of the early large quad-engine airliners Air-India operated was the Lockheed L-749 Constellation.
Said to be the most beautiful airliner in the world, the dolphin shaped Connie featured a triplet-tail and
four Wright R-3350 Duplex-Cyclone twin-row 18-cylinder radial piston engines, developing 2,700 bhp each, driving propellers.
These engines enabled an Max. Take Off Weight (MTOW) of 46,267 kg.
The L-749 Constellation was the first of the Lockheed Constellation line able to cross the Atlantic Ocean non-stop.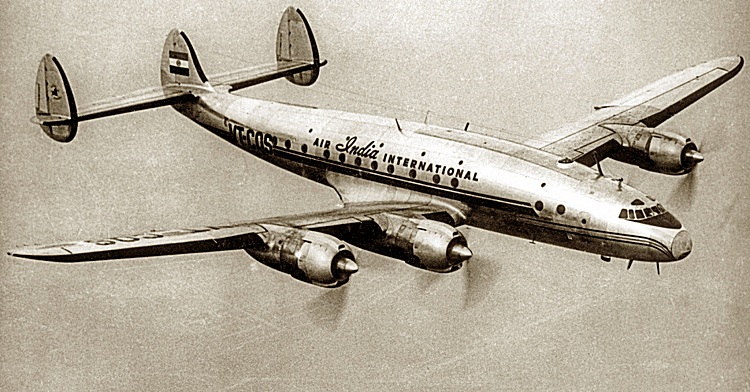 This 40-ton airliner was originally designed for Pan-Am and also ordered by Trans World Airways (TWA), courtesy Howard Hughes -- a big stakeholder at TWA.
The Constellation could cruise at 330 mph at 20,000 ft. So impressive were the design specs that TWA ordered nine, even before the design was off the drawing boards at Burbank, California.
It captured the spirit of the post war years. The high-lift low-drag elliptical wings were based on Lockheed's P-38 Lightning fighter.
The Connie made air-travel affordable for the common public. Its tremendous range made the world a smaller place.

Air-India had three Lockheed L.749 Constellations and four Lockheed L.749A Constellations
They L.749s were the
VT-CQS (Mughal Princess) construction no. 2504
VT-CQR (Rajput Princess),
construction no. 2505
VT-CQP (Malabar Princess) construction no. 2506
These three Connies arrived in India on 16th Mar. 1948.
First International Flight
The Times of India, Thu. 3rd June 1948 carried a 2 col. x 15 cm., advertisement. It showed the Air-India Maharajah bowing to welcome passengers.
Fly with me to London via Cairo and Geneva every Tuesday in a beautiful Constellation for Rs.1,720.
On Tuesday, 8th June 1948, piloted by Capt. K.R. Guzder, Malabar Princess VT-CQP operated Air-India's first international flight Bombay->Cairo->Geneva->London.
Among the 42 high-profile passengers on India's historic international commercial flight were:
Mr. J.R.D.Tata, Nawab Amir Ali Khan (1926-2004) the Jam sahib of Nawa Nagar (now called Jamnagar) and film producer Keki Modi father of Roosi Modi of the Tatas.
The Times of India dated Wednesday, 9th June 1948 wrote,
"The inauguration of India's external air service…
marks the attainment by this country of its majority in the realm of aerial development...
this is the first stage in India's march to international status…"
Improved model L.749A
When Lockheed announced the L.749A which increased the payload by 2,268 kg to an MTOW of 48,535 kg.,
Air India International, decided to replace their existing fleet of brand new L-749s with 749As. The L.749A had Curtiss Electric paddle-blade propellers. The paddle blade made more efficient use of horsepower -- more of it was turned into thrust. The downside was a very slightly heavier propeller.
The three older L.749s were negotiated to be sold to Qantas.
The first L.749A, VT-DAR (Maratha Princess) arrived 20th October 1949.
Mughal Princess was handed over to QANTAS in December 1949.
The second L.749A, VT-DAS (Himalayan Princess) and third L.749A, VT-DEO (Bengal Princess) arrived on 10th and 21st January 1950 respectively.
Tragic Loss
Unfortunately, on the morning of 3rd Nov. 1950, tragedy struck the Malabar Princess.

While flying Air-India flight 245, VT-CQP crashed at 15,000 ft. in the French Alps, killing all 40 passengers and 8 crewmembers aboard.
The crew consisted of Captain Alan R. Saint (34), first officer V. Y. Korgaonkar, navigator S. Antia, flight engineer F. Gomes, radio officer P. Nazir,
additional flight engineer D. Raghuram and cabin crew: steward S. Ganesh and stewardess Ms. Grostate. Most of the 40 passengers were Indian seamen joining ship at Newcastle upon Tyne in England.
Capt. Alan Saint reported his last position to Grenoble ATC, 10 minutes before disappearance from radar. At that time she was 80 km SE of Lyon, at 4,700 m.
The aircraft struck the slopes of Mont Blanc in heavy snow and high winds, while on descent into Genève-Cointrin Airport.
A flight path, barely 20 metres higher and she would have cleared the peak.
A Swissair plane discovered the wreckage, while flying above Mont Blanc. Two days later, rescuers found the wreck of the "Malabar Princess" 200 metres below the summit, at 4,671 m on the Rocher de la Tournette (Rock of the Tournette), 300m off Refuge Vallot. Severe Alpine weather, complicated the search for survivors.
A full French movie was made in 2004 about Air-India's Connie , Malabar Princess starring Jacques Villeret.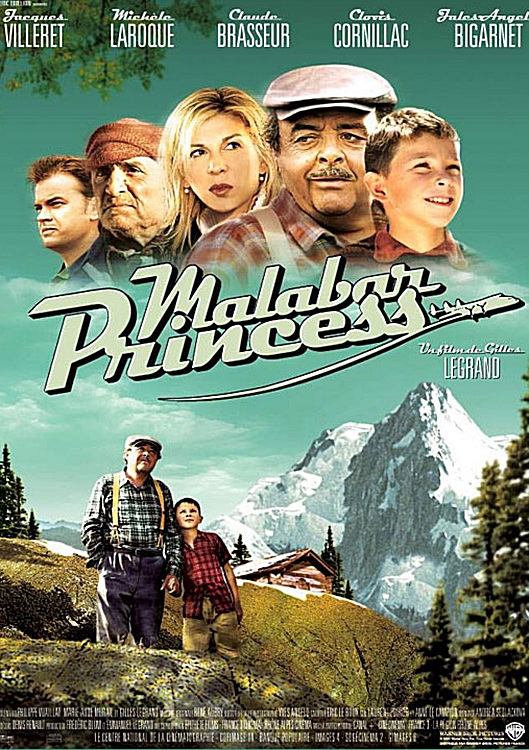 A very strange coincidence is that Air-India's Boeing 707-437 jetliner registration VT-DMN, named Kanchenjunga crashed at the same spot on Mont Blanc, killing Dr. Homi Bhabha in the mid-1960s.
Bits and pieces from the crashes
As global warming, melts the snow on Mont Blanc, bits and pieces of the original Malabar Princess surface out of the glacier.
There is a restaurant at the base of the mountain that exhibits these artifacts. Relics and remains of Air-India's first Connie.

A main landing gear from the Constellation is on display at the Chalet du Glacier des Bossons, located on the left bank of the Glacier du Bossons on the edge of the Moraine. The glacier flows for almost five miles and 11,500 feet down Mont Blanc at an average rate of about 900 feet per year. The base of the glacier is located in the Chamonix Valley and for the past twenty years airplane parts have been regularly spit out of the glacier.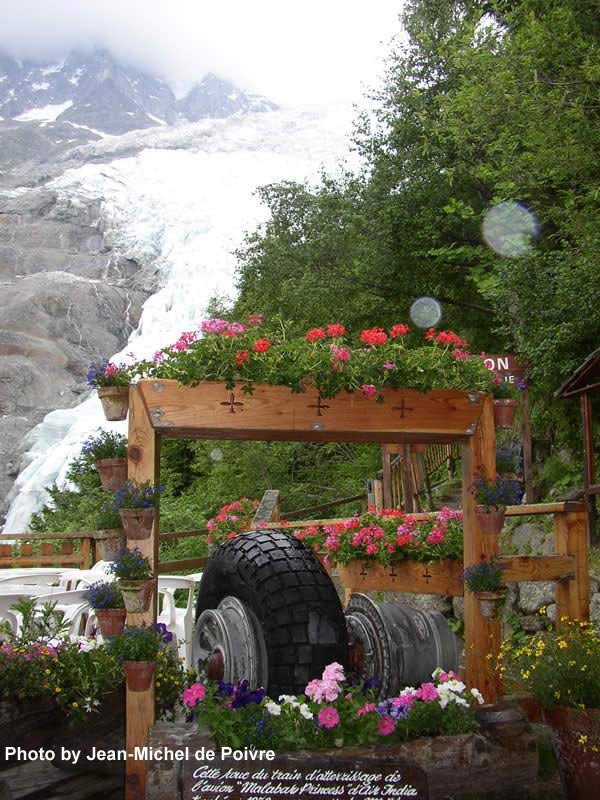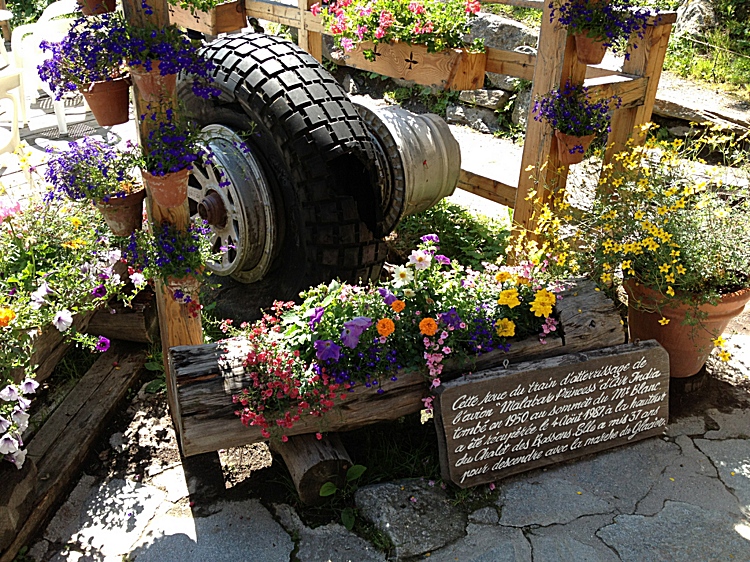 Plaque (French)
Cette roue du train d'atterrisage de l'avion "Malabar Princess" d'Air India tombé en 1950 au sommet du Mt Blanc a êté récupérrée le 4 Aout 1987,à la hauteur du Chalet des Bossons. Elle a mis 37 ans pour descendre avec la marche du Glacier.

Translation This wheel of the flight gear of the aircraft "Malabar Princess" of Air India, which tumbled in 1950 on the summit of Mt Blanc was recovered on 4 August 1987, at the altitude of the Chalet des Bossons. She took 37 years to descend with the march of the Glacier.

The landing gear was found by Christian Mollier, owner of the chalet, in front of the chalet's restaurant in 1987.
It is often difficult to determine whether some parts are from the Connie or the 707-437 but the landing gear are definitely from the Constellation.
Many of the parts found at the base of the base are in good condition despite having been encased in ice for over half a century !
Mailbag containing letters
Some letters from a mailbag carried in the Malabar Princess, survived.
Miss Freya Cowan, 22, a third-year geography student, discovered the mailbag in 2010, which had descended about 8,000 ft over the years, due to rock falls and melting snow.
Walking away from her University of Dundee colleagues for a lavatory break, Freya came upon the 60 year old mail bag.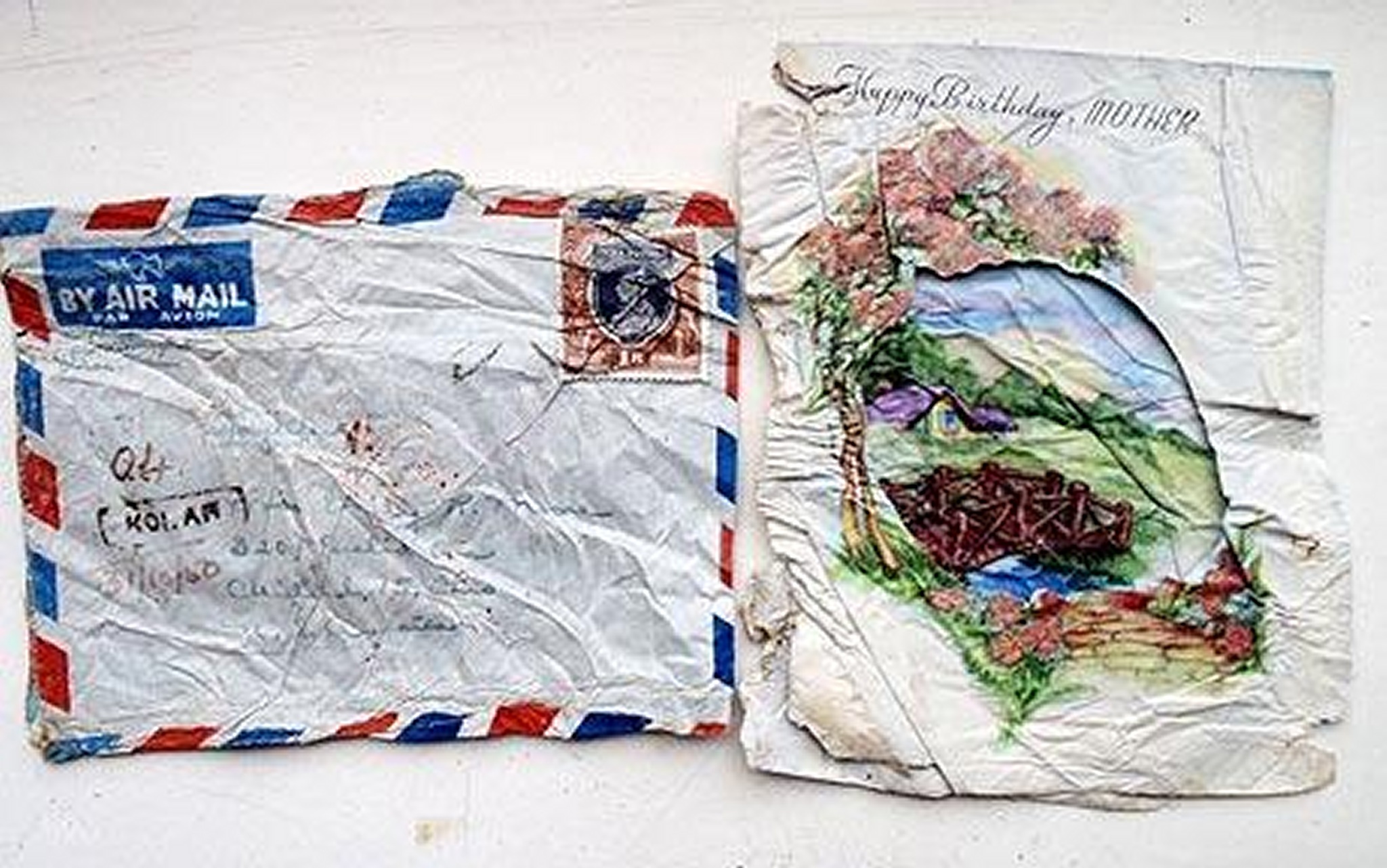 She embarked upon a project to reunite about 75 letters and birthday cards with the senders or intended recipients.
There were four bundles inside and the postmark on the letter at the top read: "Bombay, 1950".
Air-India International's fourth and final "A", VT-DEP (Kashmir Princess) arrived on 3rd April 1951,
The surviving L.749, Rajput Princess was handed over to Qantas in April 1951.
So in the summer of 1951, Air-India's fleet comprised of the replacement L-749A Constellations, supplemented by Douglas DC-3/C-47 Dakotas and Vickers Vikings.
In 1953, the Indian Government passed the Air Corporations Act nationalizing the aviation industry. The government purchased the remaining stake in Air India International. The fleet at this time consisted of four L-749A Constellations, which served until 1958.
The L-749A Constellation was not produced after 1951. Its successor was the stretched Lockheed L-1049 Super Constellation.
Lockheed L.1049 Super Constellation
When McDonnell Douglas launched their stretched DC-6A and DC-6B airliners, the Constellation was outmoded. The DC-6B could carry 23 more passengers than Lockheed's L-749 Constellation.
Lockheed then came up with the L-1049 Super Constellation. It had some 550 improvements and modifications over the old L-749 Connie.
These included increased fuel capacity, rectangular windows, larger cockpit windshields and improved heating and pressurization.
In 1953 the R-3350 Turbo-compound engines became available for civilian use. They were installed in the L-1049C, which first flew on 17th Feb 1953.
Turbocompound engines included a new turbine system called a Power Recovery Turbine (PRT), aft of each row of nine cylinders. Exhaust gases drove the triple-stage turbine, increasing the engine's output by 550 hp. The result was increase in cruising speed and climb rate. The exhaust pipes shot out flames and the exhaust stack needed 2" thick armor plating.
Turbo-compound engines, represented the pinnacle of radial piston-engine development. Each engine developed 3,250 hp.
Air-India ordered, ten Lockheed L.1049 Super Constellations.
The first two were L.1049C type. They had a Max. TakeOff Weight (MTOW) of 54,431 kg.
VT-DGL (Rani of Jhansi). This was Air-India's first Super Connie. She arrived on Sun. 6th June 1954.
VT-DGM (Rani of Ajanta)
The next three were L.1049E type. These had some detail improvements over the L.1049C. MTOW jumped to 60,329 kg.
VT-DHL (Rani of Nilgiris).
VT-DHM (Rani of Ellora)
VT-DHN (Rani of Chittor). Air-India's first type "E" Super Connie arrived on Sun. 20th March 1955.
Finally the last five were L.1049G type. These increased MTOW to 62,370 kg.
They were powered by four R-3350 972-TC-18DA-3 turbo-compound engines. They could also have wing tip tanks and weather radar.
VT-DIL (Rani of Golconda), Air-India's first type "G" Super Connie arrived on Mon. 5th June 1956.
VT-DIM (Rani of Ayodhya),
VT-DIN (Rani of Aera). This was the only Super Connie that Air-India ever lost in a crash. On 19th July 1959, when she was just over 2½ years old, she approached Santacruz, BOM/VABB in heavy rain and poor visibility. The captain was using a wrongly set altimeter. An overshoot was delayed and the aircraft crashed. All 46 on board were safe.
VT-DJW (Rani of Bijapur)
VT-DJX (Rani of Madurai). The last of these, Rani of Madurai was withdrawn from Air-India service on 7th May 1962.
I was not quite 5 years old when that happened.

However, the Ranis of Jhansi, Ajanta, Nilgiris, Ellora and Ayodhya were sold to the Indian Air Force, and later transferred to the Navy for Indian naval air squadron 315 maritime reconnaisance use.
The Ranis of Chittor and Golconda, ended their lives as Indian Air Force transport aircraft.
The Ranis of Bijapur and Madurai were converted to freighters by Lockheed Air Services, Ontario, CA and used by the Indian Air Force No. 6 squadron.
The former Rani of Bijapur, became IAF freighter BG-583 and was last seen in good condition in 2001.

My personal interest in Connies
I would love to have a scale model of the Connie, Malabar Princess in Air-India colors, in my living room.
The first person in my family to fly overseas,was my late father. A scientist with the Government of India, he traveled on official duty to Europe for a year in 1961.
He flew from Bombay to Rome on an Air-India Super Constellation on Wed. 11th January 1961.
Back then Air-India was called "Air-India International" and Bombay had a single airport terminal at Santacruz that served both domestic and international flights.
Air-India International had just ushered in the jet age for India, by acquiring Boeing 707-437 aircraft.
Their first commercial jet flight flew Bombay to Tokyo, five days later, on Monday, 16th January 1961.
My father returned to India, from Europe a year later, on Sunday, 18th February 1962.
The military retired all their Super Connies when Air India could no longer maintain them due to lack of spares. I saw these flying until the early 1980s. Was always fascinated by the roaring thunder of these big birds and the burned petrol 150 Octane smell of its exhaust gases. Stuff of my childhood memories.
My neighbour Mr. K.G.Ramaswamy was a flight engineer on Super Connies and 707s.
As a saucer-eyed kid, I learned much about aircraft from him.
Super Connies had a pilot, copilot, flight engineer, navigator, radio officer, ... Large crew.
It was my cherished treat, at the age of twelve, to sit down with cookies and coffee offered by aunt Ramaswamy
and listen to Mr. K.G.Ramaswamy uncle talk about hydraulics and control surfaces and weave the magic of the big propliners, flying Bombay, Aden, Rome, Geneva, London !
Of course, my destiny meant for me to wait until the age of 50, for the much longed after opportunity to see a Super Connie up close.
That happened when I visited Munich, Germany in January and February 2008.